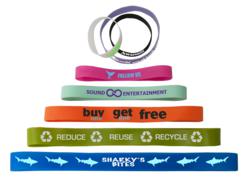 They are the new generation of promotional bands.
Hot Springs, Arkansas (PRWEB) March 29, 2012
Ad Bands®, a leading provider of custom printed and promotional products, announces its latest addition to the Ad Bands® product line for the ad specialty market. Soft Stretch Silicone Bands™ were born after realizing that nobody seemed interested in improving the traditional design of the standard silicone wristband that was made famous by the Lance Armstrong LIVESTRONG™ movement.
Being a company that prides itself on setting trends, Ad Bands® decided to take matters into their own hands. The final result of their efforts is a smarter next-generation wristband that is very soft, very strong and very stretchy! Soft Stretch Silicone Bands™ are fully customizable and feature a futuristic look and feel.
"Soft Stretch Silicone bands add a sleek and professional look to your promotional presentation," said Katie Hammel, Ad Bands® Sales Manager. "The soft material stretches many times its original size without tearing and rebounds to its original form without distortion. They are the new generation of promotional bands."
About Ad Bands®
For over 25 years, Ad Bands® has provided the ad specialty industry the widest selection of rubber, silicone and TPE wristbands. Ad Bands® is a leading supplier in the promotional products industry. Offering "Quality Printed Products," they are dedicated to continually bringing new products to the industry providing fun and original ideas. Their expanding product line includes items such as FotoFlex, Glowbands, QRC Bands, Silicone Bands, Workout Bands, and Fragrance Bands.
SOURCE: Ad Bands
Contact:
Katie Hammel
Ad Bands Sales Manager
501 262 8155
khammel(at)ad-bands(dot)com