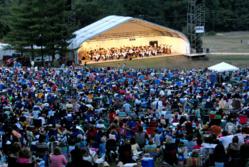 Baltimore, Md. (PRWEB) March 30, 2012
The Baltimore Symphony Orchestra announces its programming for the Summer 2012 concert season. The season begins with Baltimore's favorite Fourth of July tradition: The Star-Spangled Spectacular at Oregon Ridge Park (Cockeysville, Md.) on July 3 & 4, featuring favorite patriotic music that culminates in a fireworks display. Also at Oregon Ridge on July 14, the BSO will perform Star Wars and Beyond!, celebrating John Williams' iconic music that accompanied the popular film franchise and other popular film scores, including Batman and Pirates of the Caribbean. This summer, the BSO returns to Pier Six Pavilion (Baltimore's Inner Harbor) to perform a musical tribute to Michael Jackson on July 26 and the BSO joins a full rock band to perform the music of Led Zeppelin on July 27. At the Joseph Meyerhoff Symphony Hall, the BSO will perform A Night in Fantasia on July 28, featuring selections from popular video games and anime, with images from the games projected on screens above the orchestra. This concert is produced in collaboration with Baltimore's annual Otakon Convention, a 3-day festival devoted to Asian pop culture and a destination for more than 25,000 people to Baltimore each summer.
The BSO will also perform as part of Longwood Gardens' summer line-up on Wednesday, July 11 at 7:30 p.m. in the Gardens' historic Open Air Theatre. Located near Kennett Square, Pa., just outside of the Philadelphia metro region, Longwood is one of the world's exquisite gardens. It offers more than 1,000 acres of gardens, woodlands and meadows. The BSO's program will be led by concertmaster Jonathan Carney and features a full orchestral arrangement of Mendelssohn's Octet in E flat Major (arranged by Yoon Jae Lee). Also on the program are Elgar's Serenade for Strings and J.S. Bach's Second Violin Concerto.
The BSO has also been invited as the resident orchestra for the 2012 William Kapell International Piano Competition & Festival's finals on Saturday, July 21, 2012 at 8 p.m. Hosted by The University of Maryland at College Park, this week-long festival includes recitals and masterclasses featuring the world's leading pianists. The festival culminates in a concert featuring the three finalists, performing a concerto with the Baltimore Symphony Orchestra, under the direction of David Lockington.
BSO AT OREGON RIDGE PARK
For more than 30 years, the BSO at Oregon Ridge Park has been a Baltimore-area summer tradition, drawing approximately 15,000 patrons annually for family fun, music and fireworks in the wooded enclaves of this Cockeysville park. Gates open at 5 p.m. and local vendors will be onsite selling barbeque and picnic food options. A variety of soft drinks, water, beer and wine will also be available for purchase. Concertgoers are invited to bring lawn chairs, blankets and picnics for a full evening of entertainment with the BSO. Each concert begins at 8 p.m. and concludes with a fireworks display. Editor's Note: Glass bottles are not permitted in the Park.
The festivities kick off Tuesday, July 3 and Wednesday, July 4 at 8 p.m. with the annual Star-Spangled Spectacular, an all-American salute to the nation's founding. Conductor Robert Franz will lead the BSO and bass-baritone Derrick Parker in a patriotic celebration that includes Tchaikovsky's 1812 Overture, Sousa's Stars and Stripes Forever, among other works, and musical salutes to our armed forces, culminating in a fireworks display. Each concert will begin with the national anthem, led by the winner(s) of the BSO's fifth annual "Oh, Say Can You Sing?" singing competition. Please see below for complete contest details.
Robert Bernhardt will lead the Baltimore Symphony Orchestra in Star Wars and Beyond! on Saturday, July 14 at 8 p.m. Intended for the entire family, Star Wars enthusiasts of all ages can relive the explosive music of one of the biggest film franchises of the 20th century. John Williams' score to the iconic Star Wars movies as well as music from other popular films such as the Batman and Bond films and classics like Breakfast at Tiffany's, will be choreographed to a laser light show and fireworks.
PIER SIX PAVILLION
Located in Baltimore's Inner Harbor, Pier Six's covered outdoor venue hosts dozens of famous acts each summer and is a popular destination for tourists and Baltimore locals alike. Within walking distance to hundreds of hotels, museums, attractions and a wide variety of restaurants, all clustered around the Inner Harbor, patrons can make a day of visiting Baltimore's most famous tourism area, followed by an evening of music with the BSO.
On Thursday, July 26 at 8 p.m., conductor Brent Havens will lead the BSO and tribute artist James Delisco in The Music of Michael Jackson. The combined forces of the Orchestra and an amplified full band and back-up vocal section capture the Michael Jackson's distinct sound while presenting top hits from the late legend's influential and celebrated career that spanned nearly 40 years.
On Friday, July 27 at 8 p.m., under the baton of Brent Havens, the BSO, vocalist Randy Jackson and a full rock band will perform The Music of Led Zeppelin: A Rock Symphony, featuring the most famous works of this popular band, including Whole Lotta' Love, Kashmir, Immigrant Song, Going to California, Stairway to Heaven, Heartbreaker, plus many more. The BSO most recently performed a Led Zeppelin tribute in the summer of 2008, drawing a record attendance of more than 4,000.
OTAKON AT JOSEPH MEYERHOFF SYMPHONY HALL
Baltimore's primary venue, the Joseph Meyerhoff Symphony Hall, will welcome Otakoners and gaming enthusiasts alike to A Night in Fantasia: The Ultimate Games and Anime Experience on Saturday, July 28 at 4 p.m. Led by conductor Philip Chu, the program will feature selections from some of the greatest video game and anime scores in the world, all arranged specially for the full orchestra, with images projected on screens above the Orchestra. Produced by Eminence Symphony Orchestra founder Hiraki Yura, the show also features video game music vocalist and Peabody graduate Jillian Aversa, who has contributed to soundtracks including Soulcalibur V, Halo: Combat Evolved Anniversary, God of War: Ghost of Sparta, and Civilization IV: Beyond the Sword! Larry Oji, will serve as master of ceremonies. This concert is presented in collaboration with Baltimore's annual Otakon Convention. Since 1999, this annual three-day festival has attracted thousands to celebrate anime and Asian pop culture.