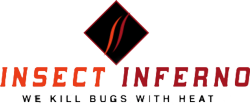 Insect Inferno is the best investment we've ever made!
Leonard, Minnesota (PRWEB) March 29, 2012
Insect Inferno is featured in this month's Pest Control Technologies Magazine. Insect Inferno is honored to be included in their Bed Bug Supplement.
PCT touched on many key points about Insect Inferno's mobile heat chamber to kill bed bugs. Insect Inferno and the Westrum's are huge advocate's in saving household items from being thrown away or destroyed. Insect Inferno believe's in saving personal belongings and not having the high cost of replacing these items. Not only does it save on the replacement cost, using the Insect Inferno also kills the bed bugs and their eggs without the use of any chemicals.
Since the interview Insect Inferno hired David Cain, bed bug expert from the UK, to come and do testing on the trailer. David met with Corey and Sue Westrum in Minneapolis, MN. Testing included air flow, temperature, humidity and all around proof of product. The testing concluded that Insect Inferno is also killing bed bugs with the low levels of humidity. The humidity level is very significant and more proof of how Insect Inferno is the best product for eliminating bed bugs and their eggs in Beds, couches, upholstered furniture, antiques, electronics and most household items. David Cain is gathering all of the data from the tests and sending it to Insect inferno within the next month. Insect Inferno will be publishing the testing results on their website at http://www.insectinferno.com and also on their facebook page.
Here is the link to the article:
http://www.pctonline.com/pct0312-bed-bugs-news-products.aspx