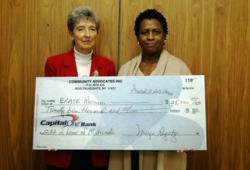 ERASE Racism has become widely recognized as the anchor and change-agent concerning the policies and practices affecting equal access to non-discriminatory housing choices..."
Syosset, New York (PRWEB) March 29, 2012
Community Advocates, a Long Island non-profit with a 40-year history as a catalyst for social justice and racial equity, particularly in housing, is giving a precedent-setting $25,000 grant to ERASE Racism in recognition of its remarkable accomplishments during its groundbreaking first decade.
Since 1972, Community Advocates has raised public awareness about inadequate resources and services, designed collaborative strategies and mobilized coordinated efforts to address unmet needs and combat inequities and injustices. Since 1986, Community Advocates has concentrated primarily on efforts to address homelessness and the lack of affordable housing on Long Island, especially for African Americans and Latinos.
In announcing the $25,000 grant, Community Advocates President and CEO, Marge Rogatz noted, "In a relatively short time, ERASE Racism has become widely recognized as the anchor and change-agent concerning the policies and practices affecting equal access to non-discriminatory housing choices, community development, quality education and health throughout, and beyond, Long Island."
The grant coincides with the release of ERASE Racism's new report, Housing and Neighborhood Preferences of African Americans on Long Island. It also heralds the beginning of ERASE Racism's second decade, which will be celebrated on June 12th, from 5:30 to 9:00pm at the Garden City Hotel. (For information, go to http://www.eraseracismny.org or call Sherley Cherenfant at ERASE Racism, 516-921-4863)