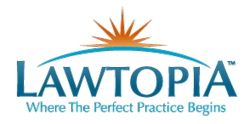 Las Vegas, NV and Orem, UT (PRWEB) March 29, 2012
Lawtopia, a team of Attorneys, CPAs and IT experts providing technology services to the legal industry, have joined the Business Services Partner (BSP) Channel Partner Program for NetDocuments, the leading cloud-based document management service for law firms of all sizes.
As a NetDocuments partner, Lawtopia now offers a cloud-based alternative to traditional client-server document management systems. This also gives Lawtopia priority access to NetDocuments' technical and development teams and exclusive training on integrating NetDocuments with other desktop and cloud-based applications.
Teaming with Lawtopia gives NetDocuments a distinct advantage in the legal market. With 10 offices throughout the U.S., the Lawtopia team includes some of the nation's most accomplished legal technology consultants, developers and educators.
"We're excited to welcome the Lawtopia team to the NetDocuments partner community," said Marriott Murdock, NetDocuments Channel Partner Manager. "With 10 offices spread across the country and deep expertise in legal tech, our clients can now lean on the Lawtopia consultants, who are certified with NetDocuments for training, integration and implementation services."
"NetDocuments is a tremendous tool for those that need fully functional cloud based document management system." said Dan Hutchison, Partner of Lawtopia. "Working with NetDocuments gives Lawtopia the opportunity to continue to support and improve the legal profession by eliminating barriers to efficiency and profitability."
About Lawtopia, LLC
Lawtopia is a nation-wide team of Attorneys, CPAs and IT experts focused on driving law firm efficiency and profitability. Lawtopia supports a range of industry leading legal technology products and services including practice management, billing and accounting, document management, document automation, cloud solutions, and more. With 10 offices throughout the U.S., Lawtopia serves law offices, of counsel, legal departments and government organizations across the nation. For more information about the company and management, go to http://www.lawtopia.net. Follow Lawtopia on Twitter at @lawtopiallc.
About NetDocuments
NetDocuments is a leading, cloud-computing content management and collaboration service. Organizations of all sizes can save tens to hundreds of thousands of dollars by eliminating the hardware, system and client software, and ongoing administration of a legacy client-server technology model. With the NetDocuments patented service simply "turned on," business professionals can immediately begin storing, managing and sharing documents throughout the world and on any Internet-connected service device. Founded in 1998 and based in Orem, Utah, NetDocuments has customers in over 128 countries. For more information about the company and management, go to http://www.netdocuments.com. Follow NetDocuments on Twitter at @netdocuments.