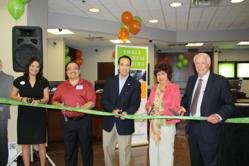 Generations strives to be a financial advocate in everything we do. This relationship with H-E-B allows us to provide convenience, access and availability to our members and to the community at large.
San Antonio, TX (PRWEB) March 29, 2012
Generations Federal Credit Union and H-E-B Grocery Stores celebrated the grand opening of their new five retail branch locations at a ribbon cutting event on Tuesday, March 27 at the H-E-B Plus Store located at 1604 and Potranco Road. With these branches, Generations now has 14 locations across San Antonio and Bexar County. State Representative Jose Menendez (Texas District 124) joined Generations Board of Directors, Senior Managers and H-E-B staff to cut the ceremonial ribbon.
"This is more than just a ribbon cutting event for us," said President and CEO Tim F. Haegelin. "Our staff came together and opened five new branches in 62 days. It's a monumental task by any standard, and we really wanted to take this opportunity to recognize all the hard work and dedication that went into making this relationship with H-E-B a reality."
The new Generations branches are located inside the following H-E-B locations:
1) Store #566, 24165 IH-10 West (IH-10 and Leon Springs);
2) Store #397, 18140 San Pedro (1604 and 281);
3) Store #235, 9255 FM 417 (Grissom and Tezel);
4) Store #463, 1150 North Loop 1604 West (1604 and Blanco);
5) Store #5 10718 Potranco (1604 and Potranco).
All Generations H-E-B retail locations are full-service branches where members and potential members can open accounts, request debit cards and apply for loans, among other services. Branch hours are Monday through Saturday from 10 a.m. to 7 p.m., and all branches are closed on Sundays. Anyone who lives, works, worships, volunteers or attends school in Bexar County, as well as family of current members, are eligible for membership.
"One of the directives of our founding members was to be a true financial advocate for our community, and a significant aspect of that is access, convenience and availability. This relationship with H-E-B is just another way that we as a credit union can reach out into the community every day and live up to that original challenge of our founding members," concluded Haegelin.