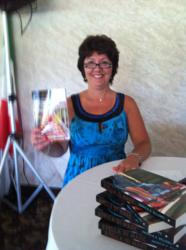 Detroit, Michigan (PRWEB) March 29, 2012
Patricia Bellomo, author of the crime thrillers, Louie Morelli's Daughter and Stella di Mare, has written several new blogs depicting bad boy Louie Morelli. Recent titles include Bahamian Adventure, March Madness in Miami, Temptation on my Terrace, and Vegas Virgins.
Writing awesome anecdotes in the voice of her main character, Louie Morelli, Ms. Bellomo provides a glimpse into Louie's illicit and exciting life. Sometimes it's just hanging with the boys for a getaway on Louie's eighty-foot Hatteras, the Stella di Mare. Sometimes there are sinister implications as in Covert Ops and Stone Crabs and Suicide, where murder is discussed at the legendary Joe's Stone Crab in South Beach. Family problems arise in Loser Son-in-Law and Angie's Admirer.
Being of Italian-American heritage, Patricia Bellomo was recently asked if she was concerned with portraying Italian-Americans in a bad light. "I certainly don't mean to offend anyone," the author replied. "But it is entertainment. Get over it."
Ms. Bellomo's readers tend to agree with her. "I am so bummed," writes one fan. "I've just finished reading Louie Morelli's Daughter. Louie is the kind of man we all wished we knew."
"Louie Morelli is certainly an exciting character," says the author. "He has looks, charm, and wealth. Plus he is just so cool."
Patricia Bellomo writes crime thrillers with a mob-related theme. Patricia's books appeal to readers of crime fiction, thrillers and suspense novels, as well as to Sopranos and Boardwalk Empire fans. Her settings are in glamorous South Florida, including Miami and Palm Beach County. Louie lives in Delray Beach, but he is originally from New Orleans, and this city figures prominently in Louie Morelli's Daughter. The author herself lives in the Detroit area, but is a frequent visitor to South Florida. She is also a member of the Florida Writers Association.
Patricia Bellomo's books can be purchased through her website, as well as on Amazon.com and all major booksellers. Kindle and ebook versions are also available. Visit her website and blog where unlikely hero and mobster, Louie Morelli, is blogging.