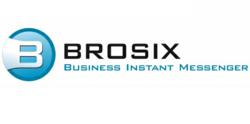 Let's face it, more employees than ever are slacking off at work – but that does not mean that managers have to simply give up
(PRWEB) March 29, 2012
In today's day and age, productivity is a buzz-word throughout many industries. When employees are not producing results it is the employer that suffers. For this reason, managers of all types are looking for a way to better enhance productivity to ensure that tasks are being completed on time and in its entirety.
With an instant messaging software – such as Brosix – managers can help employees increase productivity by cutting out distractions.

Network Control Options - Thanks to the internet, there is more potential for employee distraction than ever before. From Facebook to email, it is often times difficult for an employee to stay on task for an extended period of time.
For this reason, business instant messengers with "network control" options are becoming all the rage.
"Managers are often times in the difficult position of not only doing their own work, but keeping a close watch on what their employees are doing – this includes internet activity," says Stefan Chekanov, CEO of Brosix. "An enterprise instant messaging application that allows for full control of who is in the network can help alleviate this issue."
As a corporate instant messenger, Brosix takes a unique approach to the world of business communication by offering a higher level of managerial control.
Managers are able to organize and control all aspects of the network used by employees, down to every last detail
"Let's face it, more employees than ever are slacking off at work – but that does not mean that managers have to simply give up," Stefan continues. "Employers deserve to receive a high level of productivity from employees. By staying in contact via an instant messenger, it is easy for managers to motivate, delegate, and monitor activity."
In the past, inter-office communication was relegated to meeting in person or using the telephone. Those days are long gone. Instead, co-workers often times communicate via email and instant messages.
Along with speed and efficiency, the other benefit of instant messaging communication is the trail of activity that it leaves behind. This allows all parties involved to visit their archives when necessary.
"At the end of the day, what matters most is that employees are being as productive as possible. With the right business instant messenger, managers can feel confident that employees are doing their job while each and every worker has access to the tools needed to work efficiently," added Stefan.
To ensure that the needs of managers and employees are consistently met, Brosix regularly releases new versions of its product. The official release of the newest version of Brosix 3.2 will be on March 26, 2012.The new features of Brosix 3.2 include:
Video now available in High resolution
Improved contact list management
Echo cancellation functionality
Customizable client logo
Drag and drop file transfer
Brosix is an all-in-one corporate instant messenger, allowing managers to enhance employee productivity.
About Brosix
Brosix is a communication software development company based out of Bulgaria. Brosix Instant Messenger can be run on Mac, Linux, Windows, Android, iPhone and Web and supports Bulgarian, Chinese, Czech, English, French, German, Italian, Japanese, Korean, Portuguese, Russian, Spanish and Turkish. Brosix strives to combine the best customer service and most innovative secure online communication software on the market today. To learn more about Brosix, visit http://www.brosix.com