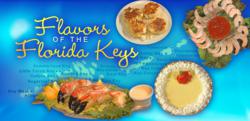 Miami, FL (PRWEB) March 30, 2012
It is one part cooking show, blended with one part travelogue, sprinkled liberally with quirky characters, funky locales and other tropical delights. WPBT2 premieres it's first television web series, Flavors of the Florida Keys, on Wednesday, May 9 at 7:30 p.m.
In this 3-part television web series, author, chef and culinary historian Linda Gassenheimer ventures down the Overseas Highway to delve into a new facet of this dynamic cuisine. On her culinary trek, she lets local residents and restaurateurs guide her, to discover the abundant fresh fish and shellfish, tropical fruits and vegetables of the Keys. From succulent Florida Pink Shrimp to the ubiquitous Key Lime Pie, mouthwatering local recipes unfold as she makes her way through the mile markers.
Viewers can watch the program prior to its broadcast when WPBT2 hosts an online webcast of the program on Thursday, May 3 at 7:30 p.m. EST at http://www.wpbt2.org/webcast. During the webcast, visitors can watch the program while chatting with each other and asking questions to Linda Gassenheimer and the Executive Producer, Jack Kelly.
WPBT2 will launch the Flavors of the Florida Keys web component on April 27 (http://www.wpbt2.org/flavorstv). Through this interactive website, viewers will have the opportunity to view behind the scenes video, cooking demonstrations and additional segments made especially for the website, which will be added weekly.
Viewers will be able to email their comments through the website and offer accounts of their own experiences with the recipes listed. Gassenheimer will also interact with the viewers to answer any questions they may have or help with any problems they may encounter in the kitchen.
Funding for Flavors of the Florida Keys was provided by Bacardi U.S.A, Inc., Badia Spices, Don Francisco's Gourmet Coffee and Florida Keys and Key West Tourism Council.
Episode Descriptions:
Episode 1 – Upper Keys
Broadcast Date: May 9, 2012
Places featured: Key Largo Fisheries, Key Largo Conch House, Mrs. Mac's Kitchen, Bob's Bunz and Sundowners.
Episode 2 – Middle and Lower Keys
Broadcast Date: May 16, 2012
Places featured: Hawks Cay Resort, Square Grouper, and Hogfish Bar & Grill
Episode 3 – Key West
Broadcast Date: May 23, 2012
Places featured: Louie's Backyard, Blue Heaven, Santiago Café, BO's Fish Wagon, and Pepe's Café & Steakhouse.
About WPBT2
South Florida's premier public broadcaster, WPBT2, is a community-licensed, not-for-profit media enterprise serving communities from the Treasure Coast to the Florida Keys. WPBT2 provides high quality content from PBS, independent acquisitions and its own original productions. WPBT2's digital media platform, offers: 2HD, a 24-hour high definition channel; Digital 2.2, a mix of Science & Nature Channel, The Florida Channel and Create; Digital 2.3, V-me, a 24-hour national Spanish-language network; and http://www.wpbt2.org, the WPBT2 website including, Impromp2 (a community blog), the WPBT2 Video Player and uVu, a video sharing website.
###