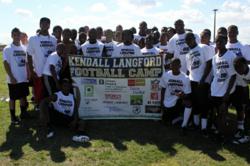 My goal was to impart practical skills and information to help these young men succeed in all aspects of their lives.
(PRWEB) March 29, 2012
Newly signed St. Louis Ram, Kendall Langford scored with his second annual free football camp on Saturday, March 24, 2012 at Miami Norland Senior High School. The former Miami Dolphin aimed to help 200 high school student athletes successfully transition to the collegiate level, on the field and in the classroom.
The defensive standout enlisted an exceptional group of NFL players, trainers and coaches to aid him in his efforts. Bommarito Performance Center's elite trainers ran speed and agility drills, and emphasized accurate technique. Sean Smith (Dolphins), Justin Durant (Lions) and Antwan Barnes (Chargers) worked with the campers and taught position-specific instruction.
The 2012 camp had the generous support of Doctors Hospital Center for Orthopedics & Sports Medicine, an international leader in the treatment of sports injuries, as the presenting sponsor. The camp provided targeted football instruction, a mentoring component, camp T-shirts, lunch, beverages and awards.
The day concluded with the players speaking to the campers during a mentoring session. They stressed the importance of excellence in academics, avoiding negative influences and being a team player. Langford also presented special hustle awards to select campers who demonstrated exemplary athleticism and teamwork on the field.
Throughout his time in the NFL, Langford has consistently underlined giving back, especially in Miami and his hometown of Petersburg, VA. Although he is moving on to the Rams, Langford has made it clear that he will continue to support those communities and do the same in St. Louis.
"I've been very fortunate to be a part of a great organization and a great community in Miami. I've made it a priority to be involved and to give back." says Langford, "My goal was to impart practical skills and information to help these young men succeed in all aspects of their lives. I'm grateful to all of the players, coaches, volunteers and sponsors who helped make it happen!"
The 2012 Kendall Langford Free Football Camp was sponsored in part by: Miami Doctors Hospital Center for Orthopedics and Sports Medicine, Publix, Gatorade, NFL, NFL Players Association, Bommarito Performance Center, Dow Lohnes Sports & Entertainment, Parthemer King Group-Wells Fargo Advisors, Rite Way Signs, Sports Authority, BJ's, Spyder Graphics, Duffy's Sports Grill, American Ambulance, Davie Dental, Club Play, The Produce Connection, Miami Norland Senior High School, Miami-Dade County Public Schools and Zico Premium Coconut Water.