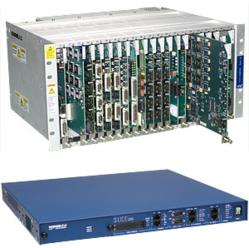 REDCOM is committed to ensuring that our portfolio of switching systems for the DoD market fully support the LSC applications and the AS-SIP requirements as defined by the UCR.
Victor, New York (PRWEB) March 28, 2012
REDCOM® Laboratories, Inc., manufacturer of innovative telecommunications systems, announced that the High Density Exchange (HDX) and SLICE® family of products Version 4.0, along with Teo® IP phones as the end instrument, have been placed on the Unified Capabilities (UC) Approved Products List (APL) and certified for use as Local Session Controller (LSC) by the Defense Information Systems Agency (DISA) Unified Capabilities Certification Office (UCCO). The UC APL provides a list of products that are available to the Department of Defense (DoD). In order to be placed on the UC APL, products must be evaluated and achieve certification for information assurance (IA) and interoperability (IO) by the Joint Interoperability Test Command (JITC).
The LSC is responsible for enforcing Assured Services Session Initiation Protocol (AS-SIP) trunk policies, such as Multi-Level Precedence and Preemption (MLPP), for calls made from SIP phones. MLPP ensures that the most important calls get through during crisis situations and it is an essential element of command and control.
REDCOM's solutions, together with Teo® IP phones, offer powerful UC capabilities including AS-SIP, IPv4/IPv6 dual stack, MLPP, seamless converged TDM/IP interoperability, secure communications via the Secure Communications Interoperability Protocol (SCIP), V.150.1, and much more.
"We are honored to receive this new APL certification. We are committed to ensuring that our portfolio of switching systems for the DoD market fully support the LSC applications and the AS-SIP requirements as defined by the Unified Capabilities Requirements for telecom switching equipment," said Dinah Gueldenpfennig, VP Planning and Government Program Administration at REDCOM.
For a complete list of REDCOM products that are available on DISA's UC APL, please visit https://aplits.disa.mil/processAPList.do and select REDCOM from the drop down vendor menu.
About REDCOM
For more than 30 years, REDCOM has specialized in the design and manufacture of innovative telecommunications products noted for their quality and reliability. Located in Victor, New York, REDCOM's global customer base includes commercial telecom carriers, private networks, integrators, emergency responders, and government and defense agencies. All REDCOM products are proudly designed, manufactured and assembled in the United States. For more information about REDCOM's tactical and strategic solutions, please contact a REDCOM customer advocate at sales(at)redcom(dot)com, call +1.585.924.6500 or visit our website at http://www.redcom.com
About Teo
Teo (formerly Tone Commander Systems) is an innovative telecommunications company specializing in telephone and network solutions for Fortune 1,000 companies, government agencies, educational institutions and small and large businesses around the world. The company, located in Mukilteo, WA, offers several made-in-the-USA products including U.S.-manufactured VoIP telephones, Unified Communication Systems, Enhanced 911 (E911) Response Systems, NT1 ISDN Network Terminations, ISDN Centrex Attendant Consoles and ISDN telephones. For more information about Teo, please visit http://www.teotech.com or call 800-524-0024.