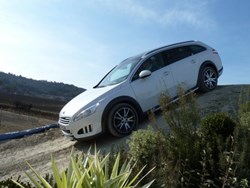 The Peugeot 508 RXH and 508 Saloon HYbrid4 both utilise the latest modular hybrid technology introduced as a world first on the 3008 HYbrid4
(PRWEB UK) 29 March 2012
Peugeot confirms UK pricing and specification details for two key Business sector vehicles that also provide substantial combined virtues and benefits.
The Peugeot 508 RXH and 508 Saloon HYbrid4 (http://www.peugeot.co.uk/vehicles/peugeot-car-range/peugeot-3008-hybrid4/) both utilise the latest modular hybrid technology introduced as a world first on the 3008 HYbrid4. They combine the accomplished 2.0-litre HDi 163 Diesel engine to power the front wheels with a 37bhp electric motor to drive the rear wheels. This innovative modular solution is now being applied to the larger platform 508 vehicles that enhance overall driving pleasure and product versatility.
While the 508 RXH is a bespoke derivative with a distinctive appearance, high-end appeal and capable as an all-route vehicle, the 508 Saloon HYbrid4 uses its hybrid powertrain to optimise driving performance, economy and versatility but both benefit from the lowest-in-sector taxation, too.
Key price, performance and taxation statistics
Peugeot Model 508 RXH 508 Saloon HYbrid4
Price £33,695 £31,450
Combined power output 200bhp 200bhp
CO2 107g/km 95g/km
Combined Drive Cycle economy 68.9mpg 78.5mpg
Top speed 132mph 130mph
Acceleration (0-62mph) 9.5secs 9.0secs
Benefit-in-Kind taxation 12% 10%
Capital Write-down Allowance 100% (in 1st year) 100% (in 1st year)
The 508 Saloon HYbrid4 carries a comprehensive specification similar to the well-specified 508 Allure but with the dynamic benefits of the HYbrid4 technology. Features like keyless entry with Stop/Start button, cruise control with speed limiter, automatic parking brake with Hill Assist, automatic dual-zone air conditioning, electric folding door mirrors, Peugeot Connect Navigation (RT6) with Bluetooth, Peugeot Connect SOS and Assistance, automatic headlamps and wipers, 18" alloy wheels and half leather seats are all standard equipment.
The 508 RXH is a distinctive, top-of-the-range, premium specification vehicle that has features over and above the 508 Saloon HYbrid4. Exclusively available in the SW estate body style, and combined with the HYbrid4 powertrain, it has a raised stance, original style features and bespoke 18" Attila alloy wheels. Other features include front and rear parking aid and parallel parking assist, panoramic glass roof, Colour Head Up display, USB point and acoustic laminated side windows with tint on rear.
Both 508s feature the innovative diesel-electric HYbrid4 technology that brings new levels of driving freedom and pleasure, in a form not seen before in the segment:
200bhp combined output
Four-wheel drive
ZEV (100% electric and silent running) mode
Very low CO2 emissions of 95g/km (508 Saloon HYbrid4) / 107g/km (508 RXH)
Key advantage for 'user choosers' is the very low Benefit-in-Kind taxation (10% on 508 Saloon HYbrid4 and 12% on 508 RXH). For businesses, both vehicles attract 100% Capital Write-down Allowance, meaning that there is no further value to be carried over for taxation into the following year.
Phil Robson, Fleet and Used Car Director, at Peugeot UK, said; "Never until now has there been a choice of cars that comprehensively ticks so many boxes. I firmly believe we have a real success story on our hands with the 508, and I think businesses will greatly value the considerable virtues that we have to offer in these new and accomplished HYbrid4 products."
Both models are available to order, with the 508 RXH on sale from May, and the 508 Saloon HYbrid4 from July 2012.
Pictures available at http://www.peugeotpress.co.uk show the 508 RXH in action, climbing and descending a steep hill, further demonstrating its versatile abilities.
A full press pack detailing every aspect of the 508 RXH can also be downloaded at http://www.peugeotpress.co.uk (Newspress passwords apply).
Note to Editors;
A new 'Environmental' section has been placed on the http://www.peugeot.co.uk site providing information on the Peugeot innovations and low CO2 features, and covers in detail the HYbrid4 technology, electric vehicle (http://www.peugeot.co.uk/vehicles/peugeot-car-range/peugeot-ion/) and e-HDi micro-hybrid.
Peugeot Public Relations Contacts
Andrew Didlick, Communications director
T: +44 (0)2476 884309 / M: +44 (0) 7836 362859 / E: andrew.didlick(at)peugeot(dot)com
Kevin Jones, Public Relations manager
T: +44 (0)2476 884215 / M: +44 (0) 7880 786596 / E: kevin.jones(at)peugeot(dot)com
Steven Fahey, Public Relations manager
T: +44 (0)2476 884216 / M: +44 (0) 7748 704219 / E: steven.fahey(at)peugeot(dot)com
Craig Morrow, Press Fleet Coordinator
T: +44 (0)2476 884261 / M: +44 (0)7747 764745 / E: craig.morrow(at)peugeot(dot)com
Janet Brace, Press Office Coordinator
T: +44 (0)2476 884257 / M: +44 (0)7798 607896 / E: janet.brace(at)peugeot(dot)com
To obtain high resolution downloadable images of the Peugeot product range, information and news stories, log onto the Peugeot Press website: http://www.peugeotpress.co.uk (Newspress passwords apply)
Company websites: http://www.peugeot.co.uk / Mu by Peugeot: http://www.mu.peugeot.co.uk