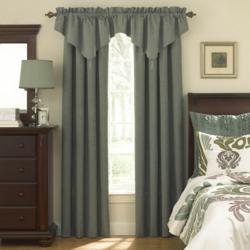 New York, NY (PRWEB) March 29, 2012
The National Sleep Foundation's annual nationwide sleep poll focused on determining the effects of the sleep environment on sleep health and wellness. Overall, the study revealed that participants do, in fact, believe that their bedroom environment affects the quality of their sleep.
Ellery Homestyles, a leading national supplier of room-darkening curtains is happy to reinforce that over 75% of people polled believe that curtains can play a key role in optimizing their sleep environment to achieve a better night's sleep. Ellery is proud to work with the National Sleep Foundation to produce Sound Asleep™ room-darkening curtains -the Official Curtain of the National Sleep Foundation. Ellery supports continued sleep education and research that will assist in helping people achieve a better night's sleep every night.
For more information on Sound Asleep™ room-darkening curtains visit Sound Asleep Curtains or Ellery Homestyles.
Ellery Homestyles is a leading supplier of branded and private label home-fashion products to major retailers – offering curtains, bedding, throws and specialty products. Our proprietary brands deliver innovation in fashion, function and design and include Eclipse™ - the voice of authority for energy-saving, noise-reducing, blackout curtains; Curtainfresh™ - innovative curtains with odor-neutralizing technology developed in partnership with Church & Dwight, maker of Arm & Hammer®; SoundAsleep™ room-darkening curtains, The Official Curtain of the National Sleep Foundation; ComfortTech™ - the only blankets constructed with premium 3M™ Thinsulate™ Insulation, providing luxurious style, lightweight comfort and superior warmth; VUE™ – the home fashion brand that presents Ellery's "point of view" on fashion trends and design, Waverly® - the oldest continuously advertised home fashions brand in America recognized by consumers for its distinctive traditional looks; Historic Charleston Collection™ - the distinctive home fashions brand that is steeped in historic Charleston's decorative arts culture and LinenHouse Australia – the leading brand known for innovative, intriguing designs in luxurious bedding, throws and accessories. Ellery is a global company headquartered in New York City with a 375M square foot distribution center in North Carolina and offices in China, India and Pakistan.