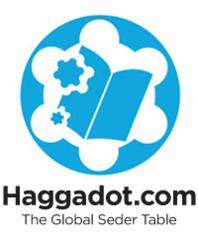 With so many varying perspectives represented, one could consider the site itself to be an ongoing, global Seder.
Los Angeles, CA (PRWEB) March 29, 2012
This Passover, Haggadot.com – a website that enables users to create an original, personalized Haggadah to use at their Passover seder – launched a new interface, new content, and several exciting features designed to enable collaboration and enhance conversation around Jewish identity and tradition.
"The Haggadah serves as a guide through the Passover seder and the holiday's themes. At Haggadot.com, our goal is to engage Jews of any background – secular to traditional – in the diverse and nuanced dialogues that arise from the themes of the Passover story, like oppression and liberation," notes artist and designer Eileen Levinson, Haggadot.com's founder. "While our online tools make participation in Passover easier than ever, we also hope that the availability of these tools helps to facilitate Jewish connections and deepen contemporary Jewish conversations."
Haggadot.com transforms the Haggadah into a communal, creative activity by enabling anyone to share their content for anyone on the site to use free of charge. Users can upload and exchange original writings, artwork, music and videos that reflect their specific religious-philosophical-political preferences for celebrating Passover's themes. They can also combine their elements (known on the site as "clips") with more traditional texts and images, enabling them to publish their very own unique Haggadah.
Haggadot.com's offerings are available to everyone to browse; registration is required only when someone wishes to start creating a personalized Haggadah. To date, over 160 writers, artists, musicians and animators have shared their work on the site.
"Not everyone has the time, or the Jewish background, to create an entirely new Haggadah from scratch. That's why we provide diverse voices, to enable users of all backgrounds to access the content and find the clips that are the most meaningful or thought-provoking for them," Levinson said.
Haggadot.com's new features are designed to aid first-timers, including a checklist of what to include, how-to videos, and both liberal and traditional templates for users to use as a starting point, or download in their entirety. A new Group Haggadot function allows individuals to maintain their independent profiles while collaborating on Haggadot for groups and organizations with which they are affiliated. For example, NEXT: A Division of Birthright Israel Foundation has invited participants in its Seder microgrant program to contribute their stories, traditions and images to a single group Haggadah, to be shared with all members of NEXT's alumni network.
Haggadot.com first launched in 2011 with support from the ROI Community, an initiative of the Schusterman Foundation, and the Natan Fund. "The past year has brought exciting growth and community support to the project," Levinson said, citing Haggadot.com's receipt of a major grant from the Jewish New Media Innovation Fund and having been featured in the 2011-2012 Slingshot Guide of 50 most innovative Jewish organizations.
Haggadot.com's communal model has been the core of its success, Felicia Herman, Executive Director of the Natan Fund, noted: "We've seen Haggadot.com grow by creating partnerships with many established and innovative Jewish organizations. These kinds of partnerships enable Haggadot.com - a small and new organization - to leverage the work of others and to reach far further in its early years than it would have had it tried to accomplish everything alone."
"With so many varying perspectives represented, one could consider the site itself to be an ongoing, global Seder, " Levinson said. "We hope that this year – and moving forward into the future – such diversity will continue to enhance the thoughtfulness of real-time Seder experiences around the world."