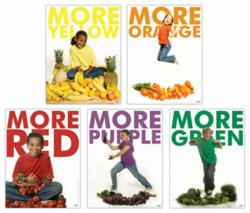 Owatonna, MN (PRWEB) March 28, 2012
Learning ZoneXpress has just announced its first ever Spring Cleaning Sale. With an overflowing warehouse, this promotion will feature items discounted 50% or greater and will last throughout the entire month of April. Each week, LZX will notify customers of featured products and sale prices via email.
If you've been looking for nutrition education materials for your home, office or classroom now is the time to buy. These promotions are only a week long, so you'll want to act fast. The first week features a set of five 'More Color' posters for just $25 as well as a Move! poster for only $5.
More information about this Spring Cleaning Sale can be found online at http://www.learningzonexpress.com/c-506-spring-cleaning-sale.aspx. For more company news, events and sale updates join Learning ZoneXpress on Facebook.
About Learning ZoneXpress
Learning ZoneXpress, based in Owatonna, Minn., is a leading source of "edu-taining" and award-winning teaching tools. Its mission is to help improve the health and vitality of children by providing relevant, creative and affordable learning tools about life skills, healthy behaviors and nutrition. Learning ZoneXpress offers a wide variety of learning aids and affordable education DVDs, posters, games, lesson plans, and PowerPoint presentations.
For more information about Learning ZoneXpress products, visit http://www.learningzonexpress.com or call Toni Gnasdoskey at 888-455-7003.