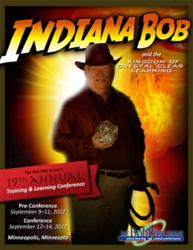 "The content of the sessions is amazing and there is something for everyone. We not only learn from the facilitators but also from networking with fellow participants." Said Liz Everitt, CUMIS Group Ltd.
Minneapolis, MN (PRWEB) March 29, 2012
The Bob Pike Group announces the details of its 19th Annual Learning & Training Conference. The three-day event provides trainers, consultants and Talent Development Managers with the latest tools, techniques and best practices in the classroom as well as online training.
The Training & Learning Conference will be held at the DoubleTree by Hilton in Minneapolis, MN. Pre-Conference workshops will be September 9–11 and Conference sessions will run September 12–14, 2012.
This year's conference theme is "Indiana Bob and the Kingdom of Crystal Clear Learning." Attending this year's conference will reinforce material you may have gathered in the past from our workshops while providing new information and techniques for participant-centered training, converting classroom material to online formats effectively, integrating audience-response systems into the classroom and more from The Bob Pike Group Trainers as well as guest faculty.
"The Bob Pike Group is 'spot on' with training. This is by far the premier training resource in the industry. If you want to 'WOW' them (your learners) attend this conference first!" said John Steiner, NaturalLawn of America.
This year's program features 38 different sessions and four certificate programs in Delivery, Design, Virtual Training and Facilitation. This conference also gives you an intimate opportunity to network with The Bob Pike Group training consultants outside of the classroom, a valuable opportunity no other conference offers.
For more information about the conference, visit http://www.bobpikegroup.com/fall
About The Bob Pike Group
The Bob Pike Group has provided train the trainer workshops and consulting services to individuals and corporations for more than 30 years. Bob Pike is the pioneer of the participant-centered training method and has a well-earned reputation as "the trainer's trainer." More than 125,000 people have gone through his Creative Training Techniques Boot Camp and more than 200,000 copies of his Creative Training Techniques® Handbook have been sold. There simply is no one in the training industry as well known and respected as Bob Pike. The Bob Pike Group trainers take those same methods and passion for learning and funnel them into interactive sessions in any training platform or mentoring format.