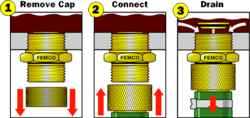 (Femco No Spill Systems)...provides a specially designed drain plug that stops spills...
Pembina, ND (PRWEB) March 29, 2012
Everyone that owns a vehicle knows that regular maintenance is essential to keeping things running smoothly. But when you manage a fleet of vehicles, even relatively simple tasks like an oil change can become a headache and a logistical nightmare. But drain plug supplier Femco No Spill Systems has a solution that makes life easier for both everyday people and those in commercial fleet maintenance.
The company provides a specially designed oil drain plug that stops spills and offers a quick way to change the oil of all types of vehicles and heavy equipment. The drain plugs are used in place of vehicles' factory drain plugs and come in a variety of sizes and styles. The oil drain valve stays closed until a special, universal hose is connected to it. Once the hose snaps into place the valve opens and the oil starts to flow out quickly. The technology works with suction and gravity to drain the oil easily and, most importantly, without mess. The oil drain valve shuts once the hose is removed.
"This is the perfect solution for anyone who performs regular maintenance on their own vehicles and especially so for anyone working in fleet maintenance," says Carrie Hasinoff of Femco No Spill Systems. "There is no mess, no difficult clean-up and no headache. Fleet managers can perform an oil change on their entire fleet of vehicles efficiently while regular vehicle owners can save a lot of money by changing their own oil." Oil can even be drained while it's still hot, making it even more efficient.
The drain plugs are made of solid brass and the company says they make hundreds of combinations of thread sizes and patterns. According to Femco, finding a fit for any particular vehicle should be no problem. The specialty drain plugs are supposed to be used in place of factory plugs and have a lifetime warranty. To learn more about Femco, the no-spill drain plugs and how they work visit http://www.NoSpillSystems.com.