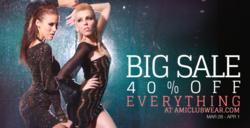 City of Industry,CA (PRWEB) March 29, 2012
AMIClubwear is in the mood to celebrate, and rightly so! It is launching the first ever recorded online retailer's magazine, AMIClubwear Magazine, and it is inviting its loyal fans to a 40 Percent off Everything Sale in celebration of the exciting occasion! It takes only one easy-as-pie step to enjoy this huge sale; just use the code "bigsale40" from March 28, 2012 to April 1, 2012!
Shoppers will surely enjoy the extreme online shopping experience because not only will they be enjoying items at 40 percent off, they'll be making quality selections from the most current fashion trends. This makes for a unique shopping experience that may leave ladies craving for more because the AMIClubwear fashion spread is simply irresistible to the fashionista on the loose.
So to give ladies raring to get with the shopping extravaganza some fashion direction; let AMIClubwear count the ways shoppers can celebrate the experience to the maximum!
One: Frothy spring dresses that come in delicate shades and flower prints will surely entice the spring vixen to awaken from hibernation.
Two: Neon is all the rage in fashion capitals all around the globe and ladies get first dibs on these, from dresses to accessories to footwear, at extreme discounts!
Three: Batwing tunic tops, which are en vogue for spring, come in enticing jewel colors at AMIClubwear. What better time to stock up on these classic spring staples than NOW when they are at 40 percent off.
Four: Maxi dresses in vivid color blocking with shades of cobalt blue, emerald green, lemon drop yellow, and bright coral will have spring ladies going bohemian with a modern edge.
Five: Soft and airy dresses with spaghetti straps and ruffles come in delicate flower prints that say 'spring' and romance in one breath; fitting for the true romantic.
Six: The predictable spring mini evolves into an exciting fashion statement with vivid color blocking, animal prints, psychedelic prints, lace overlay, and subtle metallic glints.
Seven: Stylish wedges in every available radiant color and ladylike design will surely match any spring outfit found on AMIClubwear.
Eight: Sandals in jewel colors, decorated with rhinestones and sparkling crystals in different hues will accent feet wanting to break free of winter confines.
Nine: It's never too early to prepare for summer by choosing from bikinis that come in a delicious assortment of colors and designs that can even include ruffles and bows, believe it or not.
Ten:Pucker back swimsuits that highlight the derriere in a flattering way are a beach essential this summer. Ladies will surely catch the eye of beach cuties in pucker back swimsuits that showcase their womanly curves.
There are MORE ways to enjoy this extreme sale at 40 percent off everything. Amiclubwear doesn't run out of ways to prove this. Simply use the promo code "bigsale40" from March 28, 2012 to April 1, 2012 to get in on the extreme shopping action!