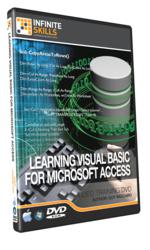 Learn Visual Basic for Microsoft Access Quickly and Easily
Toronto, Canada (PRWEB) March 28, 2012
Technology software training firm InfiniteSkills Inc. has released a new Visual Basic for Microsoft Access tutorial focused on equipping users of the popular database software with scripting and programming skills that significantly expand the program's capabilities. The Learning Visual Basic for Microsoft Access Tutorial Video explores areas where a working knowledge of Access' supporting programming language, Visual Basic for Applications, can provide functionality far beyond basic Access usage.
"This is a unique course that gives more options to Access database builders and power users by allowing them to create custom procedures, scripts and, on the whole, more complex database solutions," says InfiniteSkills content coordinator Chris Johns.
"This course offered a specific challenge." Johns adds. "We had to make a very broad and complex programming language accessible to non-programmers looking to achieve specific goals. "Our team has worked very hard to create a course that builds on what regular Access users already know and then raises the bar."
Learning Visual Basic for Microsoft Access Tutorial Video DVD
Tutorial author Guy Vaccaro, an expert in database design field, has more than 15 years of experience in technology software training, including writing manuals, training in-person, and computer-based training. Vaccaro works professionally in web and database design in addition to his work in software training.
According to Vaccaro, The Learning Visual Basic for Microsoft Access Tutorial Video allows learners to gradually but efficiently build on their understanding of VBA. The course is designed to teach technical concepts in small, manageable bits of practical knowledge. It covers difficult concepts such as VBA procedures and structures by focusing on demonstrable tasks. This task-oriented strategy allows users to gradually improve their understanding and efficiency with VBA, enhancing their use of Access.
The Learning Visual Basic for Microsoft Access Training - Tutorial Video begins with the basics of VBA, explaining essential features and command types of the programming language. Here, Vaccaro covers basic VBA structures and primary VBA procedures. Then the lessons move to the specific ways that VBA interacts with Access objects, teaching users how to manipulate data through Visual Basic. This section demonstrates important concepts such as how to assign object properties, create object oriented commands, and set object controls.
The video tutorial also covers other important areas such as programming interactivity with the database user, VBA functions, how to use VBA to manage Access data errors, and database security.
The Access VBA Tutorial retails for USD $99.95 on DVD-ROM or as a direct download. Shipping and purchase options are available to customers worldwide. InfiniteSkills offers free demo videos, a complete table of contents for this tutorial, as well as other critical course information on the company's MS Access training website:
Learning Visual Basic for Microsoft Access Training - Tutorial Video
About InfiniteSkills Inc.
An innovator in the field of technology software training, InfiniteSkills Inc. offers a unique experience-based model for teaching complex technology concepts. A wide and continually increasing library of software tutorials are available as DVDs, digital downloads, or in iPad editions -keeping with the company's goal of delivering professional training to customers anywhere they want to learn.