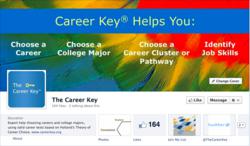 We're asking fans to have fun with this while at the same time enjoy learning about others' career journeys.
Career Key Vice President, Juliet Wehr Jones
Portland, OR (PRWEB) March 29, 2012
In a new Facebook exclusive, Career Key invites fans to share success stories about people and their career choices who they think showcase Holland's Theory of Career Choice in action. To start things off, Career Key suggests Baba Brinkman, the famous Canadian rapper, as a great example of combining the Social/Artistic personality types with a career – as an "Educating Rapper."
According to Wikipedia, Mr. Brinkman refers to his rap style as "Lit hop", recording a well-known show in 2004 called "The Rap Canterbury Tales." In 2008, he recorded the controversial "The Rap Guide to Evolution." Mr. Brinkman uses his artistic talents and interests in helping young people learn about literature and science -- with a dose of controversy. When viewed in light of Holland's Theory, it shows a person who has created a unique career to match his Social/Artistic personality – leading to great job satisfaction and success (we assume).
According to Holland's theory, you want to choose a career that matches your strongest Holland personality types. Career Key offers a valid career test that measures the six personality types. Most people are a combination of two or three of these types: Realistic, Investigative, Artistic, Social, Enterprising, and Conventional.
"We're asking fans to have fun with this while at the same time enjoy learning about others' career journeys," says Career Key Vice President, Juliet Wehr Jones, GCDF.
As part of the Facebook exclusive, Career Key is giving away free career test codes and e-Books from its eBookstore. Details can be found on Career Key's Facebook page.
About The Career Key®
Since 1997, Career Key has been the #1 Internet source for helping people choose careers and college majors. Advertising and registration-free, it offers a valid career test, information, and advice articles based on the best practices and science in the field.