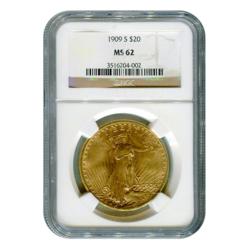 San Diego, CA (PRWEB) March 28, 2012
Liberty Coin & Precious Metals, located in sunny San Diego, CA, offers premium gold bullion and silver bullion to their valued customers from all over the world. They are known online as one of the low-price leaders for precious metals. Not only does Liberty Coin & Precious Metals have the lowest premiums on the Gold Eagle, Gold Krugerrand, Gold Maple Leaf & Gold Perth Bar, but also on numismatic and rare coins, such as Saint Gaudens and Morgan Dollars.
While gold scams have scared many precious metals investors away from numismatic coins, there are still opportunities to own low premium Saint Gaudens, Liberty & Indian Head gold coins. Liberty Coin & Precious Metals is the place to find great deals on gold and silver collector coins.
For a limited time, Liberty is offering customers MS-62 NGC $20 Saint Gaudens coins at their cost. That means you can own beautiful Saint Gaudens' for only $1,780.
These rare coins offer investors the opportunity to own a piece of American History. The coin was minted in the twentieth century and represents a time before the US Dollar was completely fiat.
Many individuals are worried about government corruption and seek out rare coins and numismatic coins so as to avoid the possibility of gold confiscation as was experienced when gold and silver was nationalized during the Great Depression.
Liberty Coin & Precious Metals is dedicated to excellent service and prices. That's why we are offering to ship these beautiful NGC MS-62 $20 Saint Gaudens for free. That's nearly a $20 savings instantly!
Call Liberty Coin & Precious Metals today at 877-511-COIN to learn more about low-premium numismatic coins!