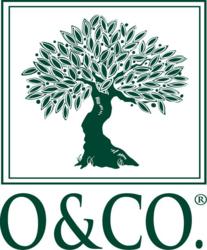 New York, NY (PRWEB) March 30, 2012
Used for thousands of years as the cornerstone of Mediterranean cuisine, olive oil possesses a unique flavor and aroma that makes it an undeniably versatile and alluring ingredient in the kitchen.
Just as specific wines are best paired with certain foods and flavors, olive oils emit irresistible flavors when paired properly. Used for sautéing, stir-frying, browning or as an extra kick of flavor in marinades, condiments or drizzles, olive oil is as distinctive as its users.
For the olive oil connoisseur, O&CO. offers many newly harvested olive oils including La Cravenco Olive Oil, a creamy olive oil, slightly buttery, with hints of apple and toasted almonds.
Domaine de Taurenne Olive Oil is a floral finishing oil. This phenomenal small batch produced from the aglandau olive varietal produces an amazing nectar. With soft, refreshing notes of green apple and bitter almond, this olive oil from France is a refreshing addition to every pantry.
An all-occasion oil, O&CO.'s Azeites Milenium Olive Oil carries notes of freshly cut grass, green apple and almond. This wonderful everyday use olive oil pairs with all types of cooking.
A bold and vibrant flavor accompanies Chili Pepper Specialty Olive Oil The producer of this oil succeeds in balancing the spiciness of the chili peppers by adding fresh, whole lemons during the pressing. This produces a rare oil that is delicious on steak, burgers, pasta, pizza, and omelets.
O&CO.'s new Veralda Olive Oil comes from the Istriot groves in Croatia which are among the most northern in the olive-growing field. These olives are harvested in early October when they are still green and yield a more flavorful juice. Rich and opulent, this grassy oil carries a burst of flavors blending green pepper, green apple, artichoke, including a big hint of cocoa. Pair this oil with fresh vegetables, pork, grilled fish or stuffed pasta.
O&CO. offers an entire range of olive oils designed to transform any meal into exotic Mediterranean cuisine. Visit O&CO. today to browse all of the gourmet Mediterranean products as well as gourmet recipes for any occasion.
About O&CO:
With a respect for tradition, O&CO. cherishes originality where tastes and smells converge to delight the senses. Emerging from the high Alpes-de-Haute, in the village of Mane, O&CO. became the brainchild of two men united around a common passion, the olive tree. Fifteen years since its creation, O&CO. has forged a new image of the olive tree, rooted in tradition but firmly anchored in the modern world. Their completely innovative concept has spread to seasonings, sauces, pastas, sweets, spreads and vinegar to bring the pleasures of the Mediterranean to you. View O&CO.'s full line of exclusive products at http://www.OliviersandCO.com.