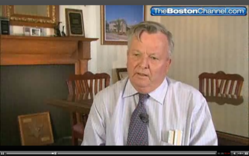 "I never met an old building I didn't like."
Chelsea, MA (PRWEB) March 29, 2012
The award-winning architecture, historic restoration, preservation and master-planning firm The Architectural Team, Inc., is featured on the popular Boston-area television program, "Chronicle."
The segment, titled "Recycled Boston," premiered on Friday, March 23rd, on WCVB-TV Boston, the ABC affiliate.
The interview of Bob Verrier, FAIA, NCARB, a key architect behind the conversion of many of New England's long-shuttered industrial and public buildings, covers the firm's historic preservation and reuse projects spanning 40 years, as well as its unique headquarters in the restored 1840s-era Commandant's House.
Projects featured in the show include Loft 550 at Malden Mills in Lawrence, Mass., as well as Lincoln Wharf – known also as the San Marco – on a prominent Boston waterfront site. In addition to Verrier, the Chronicle segment features an interview with The Architectural Team's Nick Kane, AIA, project manager for Malden Mills, and Adam Stein, senior project director for WinnDevelopment.
To preview The Architectural Team's Chronicle episode, "Recycled Boston," visit http://www.thebostonchannel.com/video/30751069/detail.html.
Verrier, who recently was elevated to the 2012 American Institute of Architects' College of Fellows, is also well known nationally among architects and developers involved in the master planning and adaptive reuse of historic landmarks, affordable housing and multifamily development. His projects are noteworthy for revitalizing communities and spurring economic vitality by creating new value for historic mills, hospitals, schools, factories and disadvantaged areas of New England. As Verrier says in the "Recycled Boston" segment, "I've never met an old building I didn't like."
The program airs as The Architectural Team celebrates its 41st anniversary. "This television show helps document how The Architectural Team has made a conscious effort to preserve the architectural heritage not only in New England, but in other distinct architectural regions throughout the United States. Ever inclusive in our interests, we recognize the elegance of those buildings which were ordinary in their day, but create the architectural fabric that connects us to our common past while putting the building to new uses," says firm principal Michael Liu, AIA.
Recent new Boston projects by the firm include The Kensington, a luxury high-rise apartment building; Fenway Center, a mixed-use air rights development; a mixed-use/healthcare redevelopment in Boston's Longwood Medical area; and Battery Wharf, a mixed-use and hospitality waterfront project in Boston's North End.
Founded in 1971, The Architectural Team, Inc. (http://www.architecturalteam.com) is a 60-person master planning and architectural firm with a portfolio of distinctive solutions for large urban mixed-use developments, multifamily residential, commercial, hospitality, recreational and academic facilities, and a national reputation for historic preservation and adaptive reuse.
Contact: Chris Sullivan, 914-462-2096