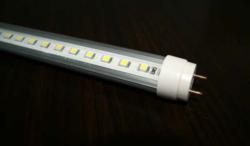 "Our relationship with ATG Electronics, Inc., provides Insignia and National Sign Network with the most advanced LED technology currently offered to the electric sign industry." said Joseph Arkeder, President.
Carlsbad, CA (PRWEB) March 29, 2012
Today, National Sign Network, a division of Insignia Sign Corporation, announced they have been chosen by ATG Electronics, Inc., to distribute their line of LED products for the electric sign industry. Their latest product the Insignia iBright™ is a high output LED replacement for T8 or T12 fluorescent lamps. It plugs directly into a T8 or T12 socket with an external power supply, which eliminates the need for a ballast. Insignia iBright™ LED lamps consume less than half the power of standard fluorescent tubes and last up to five (5) times as long.
Insignia iBright™ is a rugged commercial grade LED lamp. Suburbia, the subsidiary of Wal-Mart in Mexico, recently chose iBright™ LED products for the retrofit of their stores. The lamps feature high output SMD LEDs, an external power supply with a finned aluminum heat sink for cool operating temperatures and long life, with a shatter resistant clear polycarbonate lens. Lamps are available in sizes from 2 to 8 feet in length in warm white or cool white.
In 1992 National Sign Network created a network of America's premier sign manufacturers, installation and service companies. Today, Insignia Sign Corporation and their National Sign Network Division offer America's best sign products