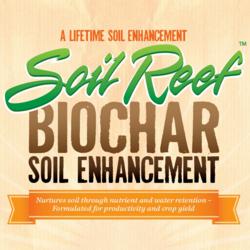 One of the most important things a gardener can do to boost crop productivity and reduce the amount of water and fertilizers needed is create rich, porous soil
Berwyn, PA (PRWEB) March 29, 2012
Worm condos. Terra Preta. Black Gold. Whatever it's called, healthy soil is the most important tool in successful gardening.
With the new Soil Reef™ blend being launched this spring, gardeners can create a healthy, organic and permanent home for beneficial organisms living in the soil.
The new blend combines OMRI-listed compost and worm castings from Organic Mechanics® with biochar, adding a unique porous carbon to the soil to create a habitat for life to thrive.
How does it work? Soil Reef creates a network of nearly permanent, natural carbon structures throughout your soil, which hold onto water and nutrients, and create homes for microorganisms.
The biochar in Soil Reef is always sustainably sourced and produced to highest quality standards. Later in 2012, Soil Reef will include biochar produced by patented technology licensed by The Biochar Company, Soil Reef's parent company.
"One of the most important things a gardener can do to boost crop productivity and reduce the amount of water and fertilizers needed is create rich, porous soil," explains biochar pioneer Lopa Brunjes, director of Soil Reef.
"Adding biochar mixed with composted matter is an ancient best farming practice created by ancient Amazonian civilizations more than 2000+ years ago," she explains.
Striking Pay Dirt.
The result of adding Soil Reef is rich, dark soil thriving with beneficial microorganisms known to produce the most vibrant, abundant and healthiest plants with less work. And once applied, Soil Reef lasts a lifetime—though cumulative applications produce cumulative benefits.
"By combining forces between these three very unique products, a thriving, diverse community is introduced into the biochar, making it immediately ready for use in the garden," says Mark Highland, President of Organic Mechanics.
"The benefits are endless," says Highland. "It's great for vegetable gardeners because you will see increased yield, use less fertilizer, increase the beneficial biology in the soil and ultimately grow healthier, bigger plants," he explains.
Highland and Brunjes agree that "gardeners can expect big results with little effort" when they plant vegetables and flowers in Soil Reef, a healthy, "living" soil.
Soil Reef is now available to home gardeners in a 3½ gallon re-useable buckets that amends 12 sq ft of garden space, enriching it for generations to come. For more information, visit http://www.soilreef.com.
About Soil Reef™ Soil Reef amendment uses a 2000 year-old Amazonian practice to create healthy, rich soil. The porous Soil Reef creates a habitat for micro-organisms to thrive, increasing water and nutrient retention. The results are bigger and healthier plants with less fertilizer and water. One application lasts a lifetime. To purchase Soil Reef visit http://www.soilreef.com or for PR inquiries contact Katie Dubow Katie(at)gardenmediagroup(dot)com 610-444-3040
About The Organic Mechanics Soil Company, LLC The award-winning The Organic Mechanics Soil Company, LLC was founded in 2006 by Mark Highland, a compost soil scientist. Mark's passion and commitment for the environment and love of teaching gardeners a better way to garden is the driving force behind his philosophy and every bag of soil he sells. The Organic Mechanics Soil Company's commitment to sustainability is reflected in all their 100% organic, peat-free soils. In recognition of their sustainable message and commitment, Organic Mechanics ® Potting Soils and amendments was recently awarded the prestigious "Seal of Approval" by Organic Gardening Magazine. Visit http://www.organicmechanicsoil.com for more information.