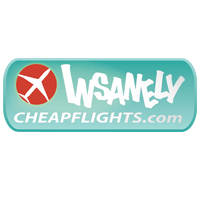 (PRWEB) March 29, 2012
More cheap flights to more cities. That's what InsanelyCheapFlights.com announced on Thursday, expanding its popular flight promotion to more destinations across the globe. For weeks, travelers have been taking advantage of the site's expansive airline ticket sale to save on thousands of already cheap flights. Now, InsanelyCheapFlights.com is broadening the sale to include more major domestic and international cities, with additional cities to be added soon.
For anyone hoping to see spring arrive in Central Park, the site is now offering up to $20 off cheap flights to New York. Catch a last minute flight to LaGuardia and you could be in Times Square by tomorrow afternoon. If blackjack is more your style, the sale has also been extended to cheap flights to Las Vegas. Book a stay at Mandalay Bay or Ceasars Palace with the site's hotel booking engine and you'll be at the tables in no time.
The expanded deal comes as rising oil prices are putting pressure on the price of airline tickets, while at the same time many travelers are just starting to plan their summer trips. The price of gasoline is also limiting family travel budgets, which is another reason for the popularity of the site's ticket sale. This high demand ultimately led to the decision to widen the promotion.
Since launching three years ago, InsanelyCheapFlights.com has experienced rapid growth in the crowded travel market by helping flyers find the cheapest flights available. While many travel sites have shifted gears in recent years toward promoting hotel offerings, InsanelyCheapFlights.com has maintained its focus on cheap airline tickets. This approach has allowed the site to gain traction against larger, more established websites.
The flight sale is available as a promo code on the homepage that applies to flights booked on the website. The discount is valid on InsanelyCheapFlight.com's booking fees only.