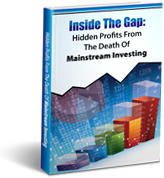 Investors are scared of losing money, worried they're paying too much in commissions and generally don't trust Wall Street (rightfully so)... Greg Phelps, Portfolio Architect
Las Vegas, Nevada (PRWEB) March 29, 2012
Investment Portfolio Architect, a national investment advisor review service, has published a Wall Street expose online. The report provides little-known insight into the world of investing with a full service financial advisor and through self-directing.
The report is titled "Inside The Gap: Hidden Profits From The Death Of Mainstream Investing". It focuses on how to best achieve investor goals through the two investment models.
Investors with full service financial advisors may be shocked to discover the numerous conflicts of interest in the model. Conflicts range from financial advisor fees and compensation, to the products they sell.
The report also shows the common mistakes investors make self-direct investing. They range from behavioral miscues to investment planning mistakes. The report goes on to explain the psychological factors which make investing incredibly difficult for the average person.
While there are two mainstream methods of investing, Inside The Gap claims the viability of a third - lesser known - method of investing. That third method the report calls "Gap Investing" or investing "Inside The Gap".
Gap investing is a hybrid between full service financial advice and self-direct investing models. Investors manage their investments with the advice of a fee only financial advisor. Fee only financial advisors are paid fully disclosed hourly, project or retainer fees.
The report states investors benefit from unbiased and expert advice. This increases investment portfolio quality and reduces investment fees and commissions. It also notes that investors retain ultimate control of their investments, which may be comforting in an era where many have lost confidence in Wall Street.
The Inside The Gap report can be downloaded for free at Investment Portfolio Architect.com.