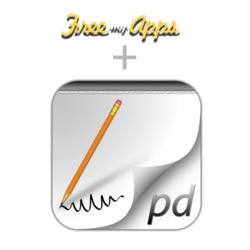 We're striving to increase user interaction with PaperDesk, and this is just one more strategy to gain exposure for our app with an audience that might not have discovered us in the app store
Ann Arbor, MI (PRWEB) March 29, 2012
Since the launch of PaperDesk 4, indie app developer WebSpinner, LLC has rolled out a campaign focused on user interaction. The latest development in this campaign is a partnership between PaperDesk and FreeMyApps to generate social interest and app discovery. A FreeMyApps user can now download PaperDesk for free, which sells for $3.99 in the App store, by redeeming 640 credits on FreeMyApps. Credits are easy to earn and rack up quickly when you download and trial any free sponsor app for 30 seconds or more.
"We're striving to increase user interaction with PaperDesk, and this is just one more strategy to gain exposure for our app with an audience that might not have discovered us in the app store," said Scott Hasbrouck, lead developer of PaperDesk. FreeMyApps is not the only interactive initiative PaperDesk has undertaken. Recently PaperDesk has increased its user base by launching a new website for the app featuring a developer blog and poll which allows users to vote on the new features they would like to see incorporated into PaperDesk. "We take user requests and votes very seriously. The next major update will include new features, such as Evernote integration, because of user feedback and interest," the developer continued. WebSpinner also began a partnership with Boxwave to offer users free styluses on a monthly basis through various contests and sweepstakes.
FreeMyApps launched in December 2011, and has since become an overwhelming success with hundreds of thousands of users looking to discover, download and try apps for free. The service now boasts over 60 premium apps, and has an impressive roster of free sponsor apps that users can download and try out to earn rewards to get paid apps free. The service is currently only available in the U.S. and is compatible with iOS devices such as the iPhone, iPod Touch and iPad. PaperDesk is also available worldwide in the App Store for $3.99, and offers a LITE version that users can try for free.
About Fiksu
Fiksu, Inc. helps leading brands and developers of iOS and Android mobile apps secure large volumes of loyal app users. The Fiksu® for Mobile Apps platform spans the entire mobile ecosystem providing the most cost-effective, predictable and intelligent mobile advertising solution, slashing user acquisition costs and ensuring sustained user engagement. Based in Boston, Mass., Fiksu is venture-backed by Charles River Ventures. More at http://www.fiksu.com, @Fiksu and on the Fiksu blog.
About FreeMyApps
FreeMyAppsTM is an app discovery and reward platform. The solution provides a new ROI opportunity to the paid app community, helping paid apps cost-effectively grow a large user base and increase revenues, while also providing an attractive vehicle for free app reach. On FreeMyApps, consumers can download paid iOS apps for free in exchange for trying free apps. Follow @FreeMyApps for the latest apps and http://www.FreeMyApps.com for additional information.