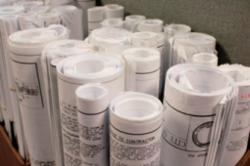 We're thrilled to provide a document scanning & document management solution for businesses with large format documents. We're able to reduce the amount of office space needed for storage & allow easy and immediate sharing among multiple parties.
Norwood, MA (PRWEB) March 30, 2012
Digiscribe New England, a leading document management service provider, is expanding its services in the New England area to include large format document scanning.
Digiscribe New England is responding to the growing needs of businesses, architects and engineers to store, access and share oversize documents electronically. Large format documents such as architectural renderings, engineering drawings and topographic maps require a large amount of costly storage space, are difficult to share among multiple parties and are cumbersome to handle.
"Our expertise in providing cost-efficient, high-quality document scanning services and document management solutions will help companies better manage their large format documents. By digitizing oversize documents, companies will realize space cost savings, quicker and easier access to critical drawings and a more streamlined and seamless way to share their documents," said Tom Zeliff, VP of Sales.