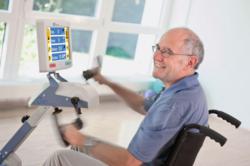 Colonial Rehabilitation & Nursing Center's new advanced therapeutic programs are non-invasive and medication-free.
(PRWEB) March 31, 2012
Welch Healthcare & Retirement Group, a trusted Massachusetts, family-owned senior healthcare and housing company introduces three new therapeutic programs designed to advance traditional therapy approaches for falls prevention, strength and endurance and wound care. The programs result from a clinical collaboration between Colonial Rehabilitation & Nursing Center in Weymouth and Accelerated Care Plus (ACP), a national provider of integrated clinical programs for chronic and post-acute rehabilitation. The programs are non-invasive and medication-free. They rely on clinically proven modalities, such as electrotherapy, ultrasound and shortwave diathermy. This therapeutic approach has been successfully adopted by clinics providing orthopedic and physical rehabilitation where ACP is the preferred clinical program for over 100 professional and collegiate sports teams.
The Falls Prevention Program, which follows the American Geriatrics Society's Guidelines, identifies at-risk individuals who would benefit from preventive treatment. "By improving strength and balance, flexibility and agility through specialized therapeutic equipment, we seek to further reduce the incidence of falls, and as a result, improve quality of life for our patients," says Steve Kelly, administrator, Colonial Rehabilitation & Nursing Center. Recent studies demonstrate many falls can be prevented by early identification of risk and appropriate treatment for at-risk residents.
The Omnicycle Strength & Endurance Program employs biofeedback and power-assisted technology to jump-start the exercise process for individuals affected by stroke, neuromuscular conditions, chronic obstructive pulmonary disease (COPD) and joint replacement. "Strokes alone are the leading cause of adult disability in America," says Dr. Frank Palermo, ACP's medical director, who is also a specialist in geriatric rehabilitation and former U.S. Olympic Team rehabilitation physician. According to Dr. Palermo, the Omnicycle automatically "senses" to what degree a patient can perform an exercise on his or her own and provides powered-assistance as needed to achieve the proper technique and duration. The unique system helps individuals exercise their upper and lower body even when they might not have full control over one of their limbs or are suffering from other physical limitations. An interactive biofeedback feature helps patients focus on the affected area. The program's goal is to return individuals to normal activities more quickly by building strength and endurance earlier in the recovery process.
The Wound Care Program, being introduced in conjunction with ACP late spring, is designed to help accelerate recovery of wounds and to provide proactive therapeutic treatment for those who might be at risk. Slow-healing wounds can lead to prolonged hospitalization, delayed rehabilitation, or hospital readmission for pain, infection and in some instances, limb loss. "The community and local medical professionals know we are committed to quality care and progressive therapy techniques," says Nancy Zappolo, director of referral and case management for Welch Healthcare & Retirement Group. "Our new treatment program for slow-healing wounds is just another example of that ongoing commitment," adds Zappolo.
Colonial Rehabilitation & Nursing Center is a 175-bed short-term rehabilitation and long-term care skilled facility in Weymouth, MA. Colonial is part of the continuum-of-care network of services provided by Welch Healthcare & Retirement Group. For more than 60 years, The Welch Group has been at the forefront of innovation and is a leading provider of rehabilitation, skilled nursing and memory care, independent, assisted living and home care services along the South Shore of Massachusetts. For more information about Colonial Rehabilitation & Nursing Center or Welch Healthcare & Retirement Group, visit online at: http://www.welchhrg.com
Accelerated Care Plus (ACP) is the nation's leading provider of specialty clinical programs for long-term care facilities and other rehabilitation providers. ACP's comprehensive programs include patented medical equipment, proprietary clinical protocols, therapist training and support.