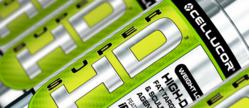 Houston, TX (PRWEB) March 28, 2012
Cellucor announced today via the company's Twitter that their brand new weight loss breakthrough, Super HD, has climbed into the Top 50 best selling product rankings on Bodybuilding.com. The announcement comes less than a month after the product's official release and is considered a major accomplishment by industry insiders and consumers.
Super HD combines is a cutting edge stimulant thermogenic that combines fat-burning ingredients and potent nootropic compounds to deliver a powerful energy, focus, and 'feel-good' weight-loss product. Super HD contains Rauwolfia, Amla Fruit and Yohimbe extract to deliver the most intense and high-powered fat incinerating and energy blend on the market, and IFAS503™, a novel ingredient comprised of three fatty acid synthase inhibitors aimed at reducing fat storage and providing powerful appetite support.
Since the product's March 1 launch, Super HD has exploded onto the sports nutrition scene, receiving stellar reviews on Bodybuilding.com and GNC, and overwhelmingly positive feedback from fans on Cellucor's Facebook and Twitter.
As of today, Super HD has climbed to Number 41 of the top-selling product rankings on Bodybuilding.com—an unbelievable climb for a product less than 30 days old.
"The immediate success of Super HD is very, very exciting," said Cellucor Director of Communications, Daniel Lourenco. "Fans are writing all over our Facebook saying how great they feel on the product, how sharp their minds feel, how much weight they're losing—it's really a great feeling seeing and hearing everyone's positive feedback and results."
Bodybuilding.com is the Internet's most-visited bodybuilding and fitness site and largest online retailer of nutritional supplements. The Bodybuilding.com store sells over 13,000 products in all categories including Muscle Growth, Weight Loss, Exercise Apparel and Accessories and holistic health products.
"Bodybuilding.com is a community of educated supplement consumers, the most loyal fans and sometimes the harshest critics. Success, especially this quickly, is really humbling and very, very exciting," said Cellucor Director of Communications, Daniel Lourenco.
Cellucor products can be found at GNC, Bodybuilding.com, and select retailers internationally. Visit http://www.Cellucor.com or visit Cellucor's Facebook or Twitter to learn more.