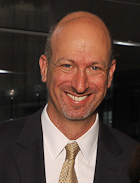 Kenny has an extraordinary passion for the mission of the Fulfillment Fund," said Dr. Gary Gitnick, Fulfillment Fund Founder and Board Chairman
Los Angeles, CA (PRWEB) March 29, 2012
Kenny Rogers, a seasoned nonprofit executive and youth advocate, will succeed Andrea Cockrum as CEO of the Fulfillment Fund, the organization's Board of Governors announced this week.
"Kenny has an extraordinary passion for the mission of the Fulfillment Fund, and his impressive credentials include a long track record of leadership at youth-oriented nonprofit organizations," said Dr. Gary Gitnick, Fulfillment Fund Founder and Board Chairman. "He has founded three organizations that have helped hundreds of children from low‐income communities become the first in their family to attend college. That's why, after an in-depth and collaborative search, the Board unanimously chose Kenny."
Rogers served for seven years as Executive Director for the California Governor's Council on Physical Fitness and Sports, where he secured funding that enabled the organization to grow participants in the Governor's Physical Fitness Challenge from 10,000 in 2006 to 1.4 million in 2011.
Prior to the Governor's Council, Rogers held leadership roles at Project Grad Los Angeles and the Marin Education Fund (now 10,000 Degrees) in San Rafael, CA. As an Echoing Green Fellow in the mid-1990s, Rogers Founded the Boyle Heights College Institute in Los Angeles, the North Central College Institute in San Mateo, and the Barrio Logan College Institute in San Diego.
"I am absolutely thrilled to be selected as the next leader of the Fulfillment Fund, an organization that is well-known for the remarkable, life-changing impact it has made on thousands of Los Angeles youth over the course of the last 35 years," said Rogers, a native of Los Angeles.
Rogers, a graduate of Harvard's John F. Kennedy School of Government as well as Princeton University, joined the Fulfillment Fund as CEO Designate on March 15 and will work alongside Andrea Cockrum until her last day on June 30.
"I am very pleased and excited that Kenny will lead our staff to grow the organization to help more students realize a college education and become future leaders in Los Angeles and beyond," Cockrum said. "I want to thank all the staff, board and supporters over the last 24 years for being such extraordinary partners, for caring so much about the future of our young people and our community."
###
For 35 years, the Fulfillment Fund has been dedicated to providing first-generation, low-income students in Los Angeles with the support necessary to graduate from high school, earn a college degree and become productive and successful members of society. Through classroom instruction, college counseling, mentoring and scholarships, the Fulfillment Fund transforms the lives of students. For more information: http://www.fulfillment.org.