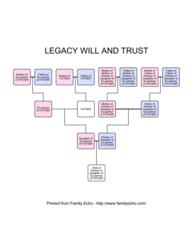 "Makes a lot of sense." - Martin D. Weiss, Ph.d. Weiss Financial Research "The idea appears to be interesting and novel." - Brian Liu Chairman
Gulf Shores, AL (PRWEB) March 29, 2012
Legacy Will and Trust, a humble interpretation of the Seven Sealed Scroll and intended to fulfill the Second Coming of Christ, is designed on Biblical principles that show how one can leave their family a personal Legacy (Birthright) to provide for future generations. In the Old Testament, the Birthright of the first born was an extremely valuable and honorable position. The first-born heir would inherit a two-fold portion of his father's estate and would become the patriarch of the family. Today this practice is not as prevalent, but what if families across the World had a plan that would be able to not only provide the Birthright to the first born, but to all their children and future generations? What if this was applied not just in families, but also in Charitable Entities fueling Trusts that could provide for the Community and World at large? That is exactly what the Legacy Will and Trust portends, and why it makes this announcement Holy Week 2012.
Nathan J. Isbell, the founder of the Legacy Will and Trust, has outlined in great specificity how this Trust can eliminate many of the woes suffered in America and the World today due to the economic climate. This concept of bequeathing life long earnings via personal foundations/Legacies can eternally provide Passive Income to Heirs, fuel Wall Street, create Jobs, rebuild Social Security, facilitate Welfare, support Charities, provide Free Healthcare, overcome Global Hunger and subsequently achieve World Peace – all funded by the Estates/Legacies of the Deceased.
"Makes a lot of sense. I'm not an expert in estate planning, but isn't this similar to charitable remainder trusts?" - Martin D. Weiss, Ph.d. Weiss Financial Research
Nathan has written a Congressional Bill proposal and it is currently being reviewed by The Congressional Research Service (CRS). He aims to have Congress pass a law that will pave the way for the Free personal foundation/Legacy website. Also, becoming aware of the pledge and challenge made by the Peter G. Peterson Foundation (PGPF) of $1 billion to find a solution to the inevitable fiscal demise of America's economy (Fiscal Wake Up Tour Challenge), Legacy Will and Trust is reaching out to PGPF. The request is that the monies pledged be used to create the infrastructure (Legacywillandtrust.com) that would make it possible for people to form their own Last Will and Testament, Living Will and personal foundation/Legacy free of charge; similar to the self service model employed by LegalZoom®. This is a Free public service that is long overdue and if left unaddressed will continually create family/Worldly division.
"The idea appears to be interesting and novel." - Brian Liu Chairman of the Board LegalZoom®
Nathan believes this to be his prophetic destiny and redemption of his own unforgivable sins. Nathan has written two books, Gods Last Will and Testament and the Acts of Nathan the Prophet. In Gods Last Will and Testament, Nathan spells out the details of the Legacy Will and Trust, and how Gods Legacy Trust LLC should be managed for the Eternal Healing Benefit of Mankind, His Prophetically Promised Kingdom fulfilling the metaphorical Second Coming of Christ.
"Here is wisdom. Let him that hath understanding count the number of the beast: for it is the number of a man; and his number is Six hundred threescore and six." - Rev 13:18