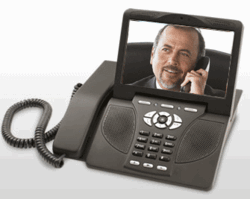 For well below the price of an airline ticket, V2VIP™ voice and video solutions are a budget friendly alternative to travel.
Ulster County, New York (PRWEB) March 29, 2012
Wind Currents Communications, Inc understands today's difficult economy and the impact on businesses. Companies of all sizes are constantly looking for ways to reduce expenses while maintaining a high-level of service, productivity and efficiency.
Skyrocketing fuel costs have driven the price of air and car travel up. This creates challenges for staff to be able to collaborate in-person with colleagues, clients or patients.
Face to face is best. 60% of communication is visual.The V2VIP™ or Voice-and-Video Internet Phone Business Calling Plans and products provide cost effective solutions to these problems. A desktop videophone provides videoconferencing and telecom functionality all-in-one device.
V2VIP™ service offers 2 lines for the price of 1. Add the iV2VIP™ video softphone, for iPad or iPhone, as the second line. This mobile VoIP device provides all the same calling capability as the first line wherever there's a WiFi connection. Never miss a call; when your number is dialed both devices ring simultaneously.
Compared to expensive videoconferencing systems that use more resources, V2VIP™ service, videophones (with 7" TFT color LCD; hearing-aid compatibility), and iV2VIP™ video softphone require as little as 150 Kbps per call. Audio and video transmission up to 30 fps, worldwide extension-to-extension calling; crisp voice calls to any US or Canada telephone number; Auto-Attendant; and option to keep existing telephone numbers.
Wind Currents Communications, Inc. was established in 2007 as an Internet Phone Service company specializing in Voice-and-Video-over-IP products and calling plans, by Wind Currents, Inc., a 15 year-old POTS video corporation. "TelePresence is a reality we've been marketing since 1997," says WCCI CEO John Monahan, "and now is the optimum time to leverage the value and benefits of V2VIP™ services and products for business video telephony and telecommunications needs."
Wind Currents Communications, Inc. was established to serve its clients and customers with exceptional quality and cost-effective products bundled with V2VIP™ services for small-to-medium businesses, telemedicine and telehealthcare service delivery, government, and security/monitoring applications.