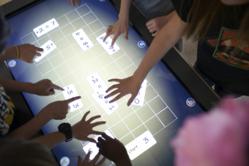 Blackburn, UK (PRWEB) March 29, 2012
A new collaborative and interactive education solution being released today by Promethean will help teachers re-imagine learning and boost the level of activity in classrooms. The ActivTable, a touch-screen interactive table, empowers students to take a more active role in their learning. The more than 25 activities, mapped to standards, inspire students to get involved and participate in group-based projects.
Using natural touch gesture-based movements on the multi-touch screen, students work in teams, pairs or individually to manipulate content and engage in activities that support lessons aligned to core subjects. In this 21st Century learning setting, students collaborate by simply sharing work with others across the ActivTable or collectively creating content or conducting research to complete a common goal on lessons.
The ActivTable supports wireless web browsing and integrates easily with the Promethean ActivBoard. Educators and learners have easy access to a wealth of tools and resources including web browsers, virtual keyboards, an image bank and offers the ability for teachers or learners to easily record sound files. Up to six students can simultaneously use these activities to build collaboration skills such as problem solving, critical thinking and consensus decision-making.
See the ActivTable in action: http://www.youtube.com/watch?v=vtMdy-C8Wew&sns=fb. And, tell us what you think by Tweet to #ActivTable.
Why it matters:

The ActivTable drives collaboration, increases student engagement and creates 21st Century learning opportunities.
Using the ActivTable's unique reporting tools, teachers can track individual student participation, learn who contributed and how each student participated based upon activity of student avatars.
Teachers can leverage the ActivTable to deliver personalized learning by groups and tailor lessons to support different levels of comprehension and learning styles.
What is new?

46" Full HD LCD display
Individual tool library including keyboards, maths tools, web browsers, etc.
Easy table access for chairs and wheelchairs
Embedded sound system for multi-media lesson and voice recording
Quotes:
"21st Century learning is about changing the classroom so that collaboration, personalization and engagement are at the heart of every moment. With the ActivTable, teamwork helps students find creative approaches to problem-solving and decision-making. Teachers can exploit the potential of the table for assessments that integrate with core curriculum learning objectives." Paul Berry, Chief Marketing Officer, Promethean
"The ability for kids to work together, in multiple ways, is more of what we need in the classroom. The ActivTable's elegance of design and ease of use gives students the ability to create, collaborate and communicate in ways that have not been possible before." Steve W Anderson, Educational Consultant.
"So, this is really all about team work," student at Macedonia Elementary School, Canton, GA.
"The ActivTable is brilliant. You can move things around, flip them over and connect them. It is fun and educational at the same time." William Harper, age 9.
Follow us online:

For more information about Promethean and its solutions, visit http://www.prometheanworld.com.
About Promethean
Promethean. Spark Inspiration.
Promethean is a global education company committed to supporting teaching and learning. Our focus is on student-centered and collaborative learning. We do this through our integrated technology, training, content and assessment solutions that help teachers meet individual student needs. Our products are used in more than 850,000 classrooms around the world, and PrometheanPlanet.com, the world's largest interactive whiteboard community site, provides over one million members access to over 55,000 free teaching resources. With corporate headquarters in the U.K. and U.S., Promethean has products distributed through a network of partners in some 100 countries and is listed on the main market of the London Stock Exchange as Promethean World Plc (ticker symbol 'PRW'). http://www.PrometheanWorld.com