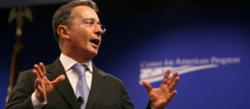 We're very proud to be able to host a statesman like Former President Uribe whose efforts to transform Colombia have been deeply important for the region, said Kirk Laughlin, CEO and Founder of Nearshore Americas.
New York, NY (PRWEB) March 29, 2012
Nearshore Nexus, the only North America investor conference focused on Latin America IT and BPO services, will feature an exclusive discussion with Mr. Álvaro Uribe, President of the Republic of Colombia from 2002 to 2010, led by CNN's Senior Latin American Affairs Editor and Emmy-award winning journalist, Rafael Romo. The conference takes place on Thursday April 19, 2012.
Nearshore Nexus will feature over 25 speakers, including top CIOs, sourcing advisors and delegates from more than 15 countries in the region to examine the growing role Latin America is playing in delivering technology support services to organizations across the Americas.
Bringing stability to Colombia has not just been Álvaro Uribe's life's work—it is his personal mission. After his father was killed at the hands of FARC, one of Latin America's most notorious left-wing Marxist guerrilla organizations, Uribe rose through the ranks of government and took drastic measures to secure Colombia against violent militias, radical political factions and rampant drug trafficking.
In doing so and in building a strong military to confront the threat of a society dominated by powerful drug lords, Uribe transformed Colombia into an economic and political force that is now a magnet for international investment and a leader in Latin America. Through his bold economic policies, Uribe unleashed growth, lowered inflation and improved the lives of many in his country by pushing for improvements in wages and social services. Uribe shares his experiences leading Colombia during a period of transformation and provides a unique view of economic and foreign policy in Latin America. His work to build international alliances also gives him a unique understanding of how current events in Latin America fit into the overall global political and economic future.
The only Colombian President in over a century to be elected to a second consecutive term, Uribe is the recipient of the U.S. Presidential Medal of Freedom for his efforts to bring peace, prosperity and democracy to all corners of the globe.
"We're very proud to be able to host a statesman like Former President Uribe whose efforts to transform Colombia have been deeply important for the region. In addition, our ability to attract delegates and sponsors from over 15 countries in Latin America testifies to the strength of our growing brands and the appeal of nearshore BPO," said Kirk Laughlin, CEO and Founder of Nearshore Americas, the company staging the conference.
Rafael Romo is Senior Latin American Affairs Editor of CNN Worldwide based out of Atlanta. Romo is charged with tracking the top stories across Latin America for the global audiences of CNN across its multiple platforms. A native of Mexico, Romo is an Emmy-award winning, bilingual journalist with 20 years of experience as an anchor, correspondent, manager of news coverage and journalism professor. He is fluent in Spanish and English and has reported in both languages throughout his career. 
Since joining CNN in 2009 Rafael has covered various significant events such as the aftermath of the Haiti earthquake. He also traveled to Jamaica to cover the violent riots after a manhunt for the alleged leader of a drug gang, to Peru to cover the arrest of Joran var der Sloot and to Brazil for coverage around the World Cup and of massive floods that left thousands of people homeless. Romo has interviewed leaders such as Barack Obama, George W. Bush and Vicente Fox and has covered natural disasters such as Hurricane Mitch in Central America. Romo witnessed the last two visits of Pope John Paul II to Mexico and reported from within the community of San Salvador Atenco in the middle of an angry, machete-wielding mob fighting a government's decision to build an airport.
Both Mr. Uribe and Mr. Romo will be available for interviews following the VIP Keynote Presentation. Media must register for press access to the conference in advance by contacting services(at)nextcoastmedia(dot)com.
This year's conference will be held at the elegant Crowne Plaza Times Square Manhattan, which offers a luxurious oasis in the middle of Manhattan's most vibrant and iconic neighborhood. The complete agenda and speaker biographies can be found on the Nearshore Nexus website.
Nearshore Nexus is an invitation-only event. Individuals who are outsourcing services decision makers may request an invitation to the conference by sending an email, with your title and company name to invitation(at)nextcoastmedia(dot)com. After submitting your registration request, your qualification status will be verified for eligibility. Qualified invitees are granted complimentary access to the entire conference. Vendors, service providers, business parks and government/private promotion and investment agencies may obtain access to the conference through sponsorship.
For the second consecutive year, sponsorships are sold out for the event. 2012 Sponsors include Tata Consultancy Services (Diamond); Ci&T (Platinum); BRASSCOM, Capgemini, CPM Braxis, MexicoIT and Pro Mexico (Gold); Altia Business Park, Belatrix Software Factory, Beltraide, Globant, Invest Pacific, Making Sense, Nearshore Call Center Services, Neoris, ProBarranquilla, Softtek, Stefanini, TXM Global Services, VSI Nearshore Outsourcing and Wipro Technologies (Premier). Partners include Avasant (Advisory Partner); HfS Research (Research Partner); Inter-American Development Bank, Fierce CIO, Hispanic IT Executive Council and The Society for Information Management New York Metro (Alliance Partners).
For information about Nearshore Nexus, visit http://www.nearshorenexus.com or contact the conference office at (516) 277-1108. Nearshore Nexus social communications can be found on Twitter and LinkedIn.
About Nearshore Nexus
Nearshore Nexus is the premiere conference to connect to the fastest-growing IT services and BPO region in the world: Latin America. With more than 20 expert speakers representing more than 14 different countries in the Americas, Nearshore Nexus is an invitation-only conference designed especially for senior-level business, IT and finance executives seeking to gain high-value connections and knowledge about utilizing offshore business process operations in Latin America and the Caribbean. The conference is hosted by Nearshore Americas.
About Nearshore Americas
Nearshore Americas is an independent online news provider dedicated to expanding knowledge on the fast-growing outsourcing market in the world – Latin America. As one of the world's leading resources on offshore outsourcing, Nearshore Americas is committed to providing high quality information and data for business and IT leaders in the U.S. and around the World. Nearshore Americas is published by Next Coast Media.