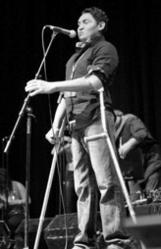 Niles, IL (PRWEB) March 29, 2012
A Chicago family never dreamt where the journey would lead when they agreed to host an El Salvadorian orphan and double amputee while he received life altering, pro bono medical treatments to rebuild his life after a devastating childhood. The poignant and inspiring story of Juan Manuel Pineda, transformed into a screenplay called "Music Has Legs," was recently selected by Kickstarter (http://www.kickstarter.com) as one of its featured projects. The ultimate goal is to produce a full-length feature film on Pineda's life and journey.
Kickstarter, through a phenomenon known as "crowd funding," facilitates pooling monetary resources from the online community, a model which circumvents many traditional avenues of investment and allows the production of independent arts projects to be realized. Projects such as "Music Has Legs" are submitted, and after careful selection by Kickstarter, are featured on the site, where supporters can donate online. Kickstarter claims no ownership over the projects and the work entrants produce. However, projects launched on the site are permanently archived and accessible to the public.
"Music Has Legs," screenplay by Chicago writer Kurt Maloy, chronicles Pineda's incredible journey and triumph over adversity. It culminates with Pineda, today 24, recording a CD and performing two live concerts in Chicago– the first to express his gratitude to non-profit Nuestros Pequeños Hermanos (NPH.org), which raised and educated him; and the second to raise funds for amputees just like him who were injured in the devastating January 2010 Haitian earthquake.
Pineda's story begins in El Salvador where he was born in 1987 with a severe cleft palate and dental deformities. At age 3, a fire swept through his home, causing third degree burns on his legs and the subsequent amputation of both legs at the hip. At age 9, Pineda's mother died of an ulcer. After a turbulent foster situation, Pineda was brought to Nuestros Pequeños Hermanos (NPH) orphanage in El Salvador, where he quickly thrived and discovered a love of music.
Through an opportunity to participate in the NPH visiting music troupe in Chicago in 2007, Pineda sang and played for an audience that included several physicians from Shriners Hospitals for Children. They were amazed by his story and perseverance and committed themselves to finding a way to correct his variety of medical problems. With additional support from the University of Chicago, Scheck and Siress, and an army of volunteers to house, feed and transport him, Pineda received the best care possible.
Throughout the next six years, on frequent visits back to Chicago where Pineda endured multiple, painful treatments to repair his severe cleft palate and receive prosthetic legs, he was ultimately discovered as a talented songwriter and musician by music industry producers. After creating the CD to express his gratitude to all those that had helped him, audiences at two sold out concerts witnessed his musical dream become a reality.
Pineda dedicated the proceeds from his 2010 concert to the estimated 2,000 to 4,000 children and adults who endured amputations as a result of the 2010 Haitian earthquake. Money raised went to NPH's sister organization in Haiti – St. Damien's Hospital.
The "Music Has Legs" screenplay was written to showcase Pineda's triumphant story and demonstrate that overcoming adversity is possible. To learn more about this project and to donate online, please visit http://www.kickstarter.com/projects/643262447/music-has-legs-movie or call 847-647-7500.