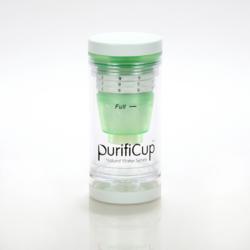 I have been quite pleased with my PurifiCup®. I would, and have, recommended it to friends. It is lightweight and compact, a nice fit in my pack. I feel more secure now that I will have the ability to create an emergency water supply
Plano, Texas (PRWEB) March 29, 2012
Independence Sales & Marketing, LLC, a Plano, Texas-based firm, has announced the launch of the PurifiCup®, a product so innovative and unique that it's changing the way people think about drinking water. The PurifiCup® is the world's first and only portable water filter and purifier system that utilizes the power of nano-silver technology to provide pure drinking water anywhere in the world.
The PurifiCup® is based on the research and ingenuity of a water treatment engineer with 30 years of experience in the industry. His dream was to create a portable water filtration system that would reduce the waste of plastic bottles. He succeeded with the PurifiCup®, a light and portable system that filters and purifies in a single process. The cup represents the first innovation in personal water purification products in decades. The timing of this new system could not have been better with national parks and universities across the country baning the sale of water bottles.
There's no longer any need to add purification tablets or boil questionable water anywhere in the world. The world-patented PurifiCup® design eliminates chemical and biological contaminants, along with 99.99 percent of over 600 types of bacteria, including E-Coli. The cup's technology also removes heavy metals such as mercury, lead, copper and cadmium, while preserving beneficial minerals.
Each replaceable filter provides up to 100 cups of pure water from the tap or from water obtained from free-flowing freshwater lakes, rivers and streams. The firm offers three types of 10-ounce PurifiCup®, one for tap water, natural water, providing 100 to 330 cups of pure water, depending on the selected series.
The earth friendly travel water system fits easily in a backpack, carry-on, handbag or briefcase, and requires no additional hoses or attachments – just fill and it filters. It's available in five attractive colors – red, green, orange, purple and black. It's an ideal solution for outdoor enthusiasts, world travelers, along with those who live and work in tenuous conditions such as reporters, missionaries and rescue workers. It's an essential element of any well-stocked emergency or survival preparedness kit.
The PurifiCup® features an innovative design that utilizes a nano-silver membrane, activated carbon and ion exchange resins to filter and clean water. Nano-silver, also known as Ag+, is well known for its natural anti-bacterial and anti-fungal properties. The nano-silver coating of the PurifiCup® provides sterilization capabilities 200 times stronger than traditional methods, preventing pathogens from entering the body.
The non-toxic technology is used in the medical industry and the cup is made of FDA approved food grade materials for complete safety. The three-stage filtering system is completely self-contained and can be attached to a standard water or soda bottle for additional filtering options. A counter on the filter helps users monitor capacity and the cup acts as a storage unit.
The PurifiCup® is the first portable water purifier system of its kind, representing a giant leap forward in the science of water purification. The cup provides powerful protection against contaminants and pathogens from virtually any free flowing water source. It's small enough to fit easily in bags, packs and carry-on luggage, offering a convenient source of water in any environment. The PurifiCup® provides clean, safe drinking water in an environmentally friendly container, with the potential to eliminate thousands of plastic water bottles from landfills each year.
The firm can be reached by phone at 214-660-5766, via email at sales(at)purificup(dot)com or by visiting the website at http://www.purificup.com.