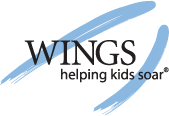 "It's our wish that one day, every kid gets the social and emotional skills they need to soar in life." Bridget Laird, Wings for kids CEO
Atlanta, GA (PRWEB) March 30, 2012
For more than 15 years, Wings for Kids has delivered powerful life lessons to elementary students in Charleston's most challenging schools. The nation's only program of its kind, Wings teaches Social and Emotional Learning (SEL) to disadvantaged kids who struggle to navigate academics, and often can neither comprehend nor manage the difficult circumstances of their lives.
In August, this proven after school program (participants have a 40% higher high school graduation rate than non-Wings peers) will expand to Atlanta, bringing its novel curriculum to 200 at-risk, Fulton County K-5 graders. Students will be chosen based on referrals and need.
School administrators were impressed by Wings' track record in Charleston, helping reverse the tide in area "dropout factories." WINGS kids work through a variety of activities to develop self-awareness, relationship skills, social awareness, self-management and responsible decision-making.
Preliminary studies by Yale, the University of Virginia and the College of Charleston show WINGS kids behave better, perform better academically and attend school more often than non-WINGS kids. These preliminary results led to a $2.8 million grant awarded in late 2011 to UVA by the Institute for Education Sciences to conduct a 4-year impact study on WINGS.
Winners of the 2011 Social Impact Exchange business plan competition, the non-profit intends to serve 12 schools by academic year 2014-15.
For the 2012-13 academic year, WINGS will be delivered to Heritage and S.L. Lewis Elementary Schools (both in Fulton County). "WINGS is a natural fit for us," said S.L. Lewis Elementary principal Josephine Richmond. "Our school motto is 'Soaring to New Heights' and WINGS will definitely help us do that. I can't wait to watch my kids learn these important life skills – and have fun."
Bridget Laird, CEO of WINGS, added: "We have been diligently preparing for replication of our program for years and expansion specifically to Atlanta for months. We bring tremendous experience and excitement to this moment. It's our wish that one day, every kid gets the social and emotional skills they need to soar in life."
The concept of Social and Emotional Learning has been gaining popularity in both educational and parenting circles since its inception in the early 1990's. Research has found that SEL techniques can improve behavior and academic performance, lessen absences and provide more attachment to school; it also improves behavior at home and in other settings. WINGS recently introduced a "Ready, Set, Soar with SEL—a DIY Social Emotional Learning Kit" that can be downloaded for free. It contains SEL lessons like delivering positive reinforcement and becoming socially aware.
WINGS has partnered with United Way of Metropolitan Atlanta's Ready By 21 collaborative. Ready by 21 unites various local and regional community service providers, key stakeholders, partnerships, coalitions and networks to transform high-need communities by implementing place-based strategies in communities that are home to persistently lowest-achieving schools—those that feed high school "dropout factories."
WINGS has already begun its work in Atlanta, recruiting potential WINGSLeaders (employees who work in schools) from Morehouse College, Emory University, Spelman College, Georgia Tech and Georgia State.
About WINGS for kids
WINGS for kids began in 1996 in Charleston, S.C. It is the only U.S. organization focusing on teaching social and emotional skills to elementary kids in an after school setting. It currently serves 460 students across four schools in Charleston County—Memminger Elementary, Chicora Elementary, North Charleston Elementary and James Simons Elementary. Since it began, it has helped more than 3,100 kids soar. To learn more about WINGS for kids, visit http://www.wingsforkids.org or call 843-296-1667