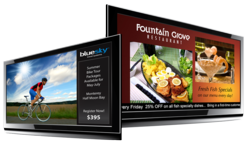 Digital Signage has revolutionized the way the world communicates. We've only just begun to see the potential of this transformational medium.
San Jose, CA (PRWEB) March 30, 2012
BLR Sign Systems, a premier provider of visual communications including digital signage solutions, has a long history of partnering as a means to delivering high quality products, services and solutions. Digital Signage is no different as indicated in a recent article released by Intel. To read the full article, click the pdf icon on the right.
BLR Sign Systems is a full service visual communications provider based in Silicon Valley. For over 40 years, BLR has been helping companies put their message where they need it. From all forms of static signage and graphics to complete dynamic digital signage solutions, BLR stands apart in providing an integrated approach to visually communicating a company's brand and message. For more information visit http://www.blrsignsystems.com or call (408) 956-9401.