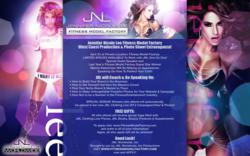 Jennifer Nicole Lee likes big things, big events, and big news. She states "small things make me shrink inside, and I don't like impotent subjects or productions. My mottos is go big or go home. And yes, the bigger the better. This LA Event is BIG!"-JNL
Los Angeles, California (PRWEB) March 29, 2012
Jennifer Nicole Lee likes big things, big events, and big news. She states, "small things make me shrink inside, and I don't like impotent subjects or productions. My mottos is go big or go home. And yes, the bigger the better. It take the same amount of energy to focus on small goals as it does big goals. So, I only do my productions up big, and only invite the best, and work with the best." Next up on JNL's super packed busy agenda is her big celebration in April the 22 in Los Angeles, with some of the most powerful women who she has handpicked.
By way of background, Jennifer Nicole Lee is the CEO and President of the Fitness Model Factory. The Fitness Model Factory is JNL's brain child of what she needed to create in the fitness and wellness, beauty glamour industry. It's a full production house providing consulting, insight, and many resources from videography, campaigns, coaching and also the baseline photography needed for promotional uses.
Jennifer Nicole Lee opened up her Miami based Fitness Model Factory last year, in March, with a major grand opening on April the 16th 2012. When asked what the future is for her Fitness Model Factory Production house, JNL stated, "JNL Worldwide, Inc has now joined forces with some of the biggest names, brands and labels due to the fact that I opened the Fitness Model Factory Production studio. Im proud to say that my Fitness Model Factory (FMF) is now an iconic legendary destination spot that is so hot, many travel over 30 hours by plane to enjoy the experience of working with my team and creating life long memories, media, photos and videos that will give them joy the rest of their lives."
Also at this mega one day event is JNL's business partner Mr. Claude Taylor. JNL has coined him as "Mr. Big," who is a master photographer with the most upright work ethic. He states, "Daily I pound my craft to be the best out there, second to none." Jennifer Nicole Lee and Mr. Big have worked on numerous productions together at her Fitness Model Factory, which again is the creative house of many of their campaigns for contracts presented to their company.
One thing is for sure, with over 50 magazine covers, and her 3rd book out entitled The Fun Fit Foodie Cookbook, and her 4th book in the works called "Beyond the Bikini," and her JNL Fusion exercise 12 DVD set soon to launch at http://www.JNLFusion.com, Team JNL shows no signs of slowing down.
Attending the event are fellow heavy hitters and leaders in the wellness, fitness, beauty, glamour and fashion industry. the event co-hosted by Marina Aleksintser who is a JNL Fusion Master trainer and also the world's first ever FMF West Coast Winner to her 2011 casting call. "Marina is a leader and a true creative force to be reckoned with, as she constantly has super potent ideas, and also not to forget to mention just how photogenic, gorgeous, strong, charming, and fearless she is. To know that she is a mom and a wife, just like me, yet has an unquenchable thirst for creating, challenging fashion, and also entrepreneurial ship, it's now wonder why we are very close and extremely good business partners."
Oxygen Cover Girl, Fat Loss Success Story and award winning bikini competitor, Kimberly Castle has confirmed that she will be attending the Los Angeles Fitness Model Factory Mega One Day event and will be working once again with fellow Oxygen Fat Loss Cover Girl Jennifer Nicole Lee. According to Castle, "This event is going to be an amazing start to a great year. I have several bikini competitions and photo shoots scheduled over the next few months and this is just the motivation I need to get my mind in the right place." With competition training in full swing and a new book in the works Kimberly is set to take 2012 by storm. "This year has been so crazy and exciting already. I am moving to Dallas, TX in a matter of days, I have been working on my book and preparing to take home that coveted IFBB Bikini Pro Card. This is my year!"
Kimberly Castle the motivational powerhouse, a highly sought after health and wellness coach, is a national level bikini competitor in Canada and the USA, former Miss Model of Canada and works directly with Oxygen fit to promote a healthy lifestyle to women around the world.
The Alli B has also confirmed her special appearance and attendance. The Alli B is a 2nd Degree JNL Fusion Master Trainer, and a strong force in the vegetarian community, where she also preaches positive messages such as her key trademark phrase "TODAY Is Your Tomorrow!" She is a highly sought after coach, where she consults with her worldwide clients to focuses on the present moment. The AlliB also focuses on nutrition, fitness & positive surroundings. She states "These are extremely important whether you want to transform your body, set new fitness goals, go for a new career, start a family or just want a change of pace." On her website of http://www.TheAlliB.com she shares her passion for being a near and dear fitness friend to JNL.
Jenna Krahn is a hot and serious up and coming fitness model, mega motivator and JNL Fusion master trainer. Jenna K is blazing the north west scene with soon opening up her business to coaching and training clients as a private boutique elite gym studio facility. Her website http://www.JennaKFitness.com is a wellspring of nutritional insight and positive fitness tidbits to help all achieve their fitness goals.
Fierce, feisty and a force to be reckoned with sums with the positive power of super fit Chief Warrant Officer Mrs. Sandra Gonzalez, who was a key note speaker at JNL's 2nd Annual JNL Fusion World Conference Event. She recieved a standing ovation, and now has won the hearts of all current JNL fusion sisters. Sandra is still relentlessly keeping her eye on the prize as this dedicated wife and mother, as she now focuses on stepping up her online coaching presence with a new hot slick and inspirational website, plans on bringing her A-game to the competition circuit, and perfecting her photography campaign by building a serious portfolio with JNL's Fitness Model Factory dream team.
Angela Skeels is a fresh dedicated newbie to the fitness scene who has a heart of gold, a work ethic stronger than steal, and who is an honorable public safety dispatcher who dreams of being on the cover of fitness magazines. Her goals are to learn the top secrets of JNL of the real inner going ons of the bikini and fitness competition circuits, with a highly searched website, viral social media presence, and obtain tear sheets with possible fitness magazine covers.
Christine Auer is an extremely inspirational insightful woman with a strong history in the fitness and wellness industry. With her column of accomplishments and accolades, Christine now seeks to author her own book about her multi-faceted life and become a motivational public speaker and role model. She is now in the midst of relaunching her new and improved website. With a body that resembles a top gymnast in their early 30's, this 52 year old will be not only turning heads in the fitness industry with JNL's backing, but breaking their necks.
Marnie Miller is an dynamo in the hair industry, owning her salon for many years. This savvy business owner now seeks JNL's expert consulting and coaching to turn her passion for fitness into a profitable empire. As a girl who was always into fitness, she has taken the bold step of pursuing her heart by making her dreams come true, with the solid advice and direction from JNL.
Michelle Phillips is a super fit mom who now is on a mission to prove to the world that women only get better after they become a mom. She is all about fitness, and she never has felt more excited about being fit then she does now, especially after being accepted into JNL's Fitness Model Factory event.
Dr. Catherine Divingian has the fitness modeling goals of landing a cover or two. She applied to work with JNL to work around the superficiality of a sometimes brutal industry which is very competitive. Dr. Catherine is a seasoned fitness and wellness expert who now seeks out JNL to sharpen her craft, by dialing in her marketing and social media.
All in all, JNL will be pushing these women to new heights, motivating them to be their very best.
For more info, please visit http://www.FitnessModelFactory.com