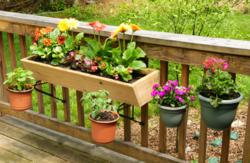 Our company's success is due in large to the feedback we receive from our customers
Asheville, North Carolina (PRWEB) March 29, 2012
Just in time for the spring season, Blue Ridge Bracket Company will be giving container gardening kits to two of their Facebook fans. A container gardening kit consists of a planter bracket set, two pot extenders, a six inch rockit ring, and an eight inch rockit ring. The only requirement to be eligible to win one of these sets is to be a fan of the Rail Rockit Facebook page. Blue Ridge Bracket Company is hoping this will give them a chance to interact with more consumers and meet the market's needs with new products.
Blue Ridge Bracket Company's container gardening kits attach to wood, vinyl, composite, aluminum and wrought iron, pickets with no tools required. The brackets have given apartment dwellers new balcony garden ideas that were previously impossible. The "no tools, no clamps" brackets have found themselves in use to hang flower pots, show off seasonal decorations, and add space for grilling and out door entertaining. Trent Van Dyke, CEO of Blue Ridge Bracket Company says, "Our company's success is due in large to the feedback we receive from our customers." He continues, "Just this year, we released the 36" Rockit Hanger based on customer demand." Trent is especially excited about the opportunity to hear more customer feedback. He understands that the consumer's voice is an invaluable asset to an ever-growing business like Blue Ridge Bracket Company.
Blue Ridge Bracket Company hopes that this will be one of the many ways they reward faithful consumers in the coming years, and urges it's customers and fans to look for offers like this in the future. For more information, visit their facebook page or go to justrockit.com.
Blue Ridge Bracket Company is based in Asheville, North Carolina and carries products for gardening, birding and seasonal decorating. Blue Ridge Bracket Company ships to hundreds of garden centers, wild bird stores, and hardware stores across the United States and Canada. For more information on Blue Ridge Bracket Company or their products, please visit http://www.justrockit.com. Contact Trent Van Dyke at (828)242-8577 or by mail at Blue Ridge Bracket Company 66C Fletcher Commercial Drive Fletcher, NC 28732