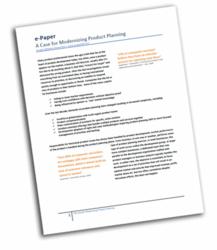 "Product planning is where product organizations gain business advantage."
Jon Gettinger, Accept Software
Santa Clara, CA (PRWEB) March 29, 2012
Accept Software releases an e-paper that explains why it's important for companies to finally rethink their product planning rather than continuing to use spreadsheets, "task based" software tools and in-house solutions.
The e-paper argues that at the heart of product planning lies unchanged-for-decades information management practices that inhibit, rather than support, product success with markets and customers in these complex times. Furthermore, the paper goes on to argue the possible reasons why companies are still seeing dismal product failure rates despite their continued investments in point tools.
"Product planning is where product organizations gain business advantage. But many organizations are still using primitive methods and tools to deal with the modern realities of meeting market demands, rather than considering new approaches. It's truly time to modernize."
– Jon Gettinger, Accept Software
The Case for Modernizing Product Planning e-paper covers:
1. What product planning should do,
2. How information management lies at the heart of product planning, and
3. A modern approach to fixing the problem for better product outcomes.
About: When companies outstrip their "business-as-usual" product planning tools and in-house solutions Accept Software's product planning empowers global enterprises to accommodate constant change, coordinate teams and manage product scope, no matter how large or complex, from concept to delivery.
Accept Software's collaborative approach gives companies, with complex product planning challenges, a modern solution for aligning their products to the best market opportunities. For more information, visit http://www.accept360.com or call us at +1.866.423.8376.