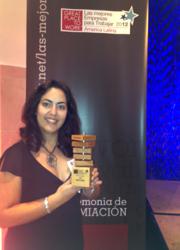 San Francisco, CA (PRWEB) March 29, 2012
Belcorp was recognized as part of the top 25 best multinationals to work at in Latin America in 2012 by the renowned organization Best Place to Work(R).
During the award ceremony which took place last night, March 27th in Atlanta, Belcorp received its 12th rank award in the category: "Best Multinationals to Work in Latin America 2012." In order to qualify for this impressive recognition, multinationals must have at least 1,000 employees worldwide, to have been recognized in at least 3 Latin American countries as part of the Best Place to Work in the last year, and have at least 40% of their employees work outside their main headquarter. Once qualified, the companies go through a rigorous evaluation called Trust Index(c) and Culture Audit(c) which combine employees interviews, questionnaires and review of the companies' programs, policies and practices.
Mona Ameli, Director General of Belcorp in the US who received this prestigious award on behalf of Belcorp said: " It was a true honor for me to represent Belcorp last night at the Award Ceremony. Our Founder, President and CEO Eduardo Belmont has managed to create a very successful multinational beauty company, now present in 16 countries, while maintaining a family culture of care, respect, trust, nurture and continued growth of the employees at all levels throughout the organization but also across all its countries."
"Our Human Resources department, including the Culture & Identity and Communication groups, do an amazing job, everyday, to develop and expand Mr. Belmont's vision and the employee care culture," explained Ameli. "We couldn't be prouder and happier to be recognized for being part of such a unique organization that cares as much, if not more, about its people than it does about its financial growth. It is even more impressive to realize that we are the only Peruvian company to make the top 15 Multinationals list which is an extraordinary achievement for Belcorp in Latin America," Ameli added.
Other winners in the category were multinational giants such as Kimberly-Clark, Microsoft and Oracle, just to name a few, which ranked higher than Belcorp but also Nextel, 3M, Coca Cola, DHL which Belcorp out-ranked, making it the only Beauty&Cosmetics multinational company to make the list.
About Belcorp USA
Belcorp International, Ltd. is a Peruvian, private, multi-brand, international corporation with over 44 years of experience in developing and selling products in skin care, fragrance, makeup, body care and hair care through a network of 850,000 Independent Distributors across the Americas. Established in 2005, Belcorp USA is a wholly-owned subsidiary that sells beauty products in the United States under the L'Bel brand, which are available both online and through a large network of Independent Beauty Advisors nationwide. L'Bel Skin Care line and Fragrances are produced exclusively in France. Products can be purchased online at http://www.lbelusa.com.