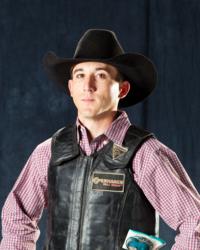 "With hard work and determination, you can make anything happen"
Fort Worth, TX (PRWEB) March 30, 2012
Josh Barentine has been recently touted as one of CBR's "hot, new, young riders but truth be told, at 27, Josh is considered neither young nor new to bull riding. He is, however, the hottest rider on the CINCH CBR Tour. Josh is one of a crop of riders who busted onto the CINCH CBR Tour through the Horizon Series, ten of whom currently make up the top fifteen cowboys in the CINCH CBR standings, not to mention some serious contenders for this year's Championship Buckle.
An accomplished and talented rider during his high school years, Josh was forced to put his riding career on hold because of unexpected personal tragedies. A humble and modest cowboy, Josh shares his story of triumph through tragedy, "When you don't have much, and you lose everything, there isn't much to brag about," Josh remarks. "But, I figure if I can come from where I did and stand where I am now, it's proof that with hard work and determination you can make anything happen, which is why I share my story."
Tragedy struck twice for the proud Louisiana native, with Hurricane Rita and Ike devastating his entire family's livelihood, and an already meager living situation turned from bad to worse. Josh soon found himself aimless and destitute.
"I didn't want to take a break from riding, but I had to do other things just to survive," remembers Josh, "My dad had my two sisters he was putting through college, so it was just me. I had to do what I could to get by."
Josh continued to flounder for the next few years, attempting to put the pieces of his life back together, until his attention came to focus on the birth of his son, Kayson.
"I knew when Kayson came I was going to have to focus and straighten myself out. I was going to be a father, and I now had to provide for my family," Josh states.
It wasn't long before Josh found his way back to riding bulls, determined to make some money. Not soon after, Don Gay, the infamous eight-time PRCA World Champion, took a liking to the young man's style.
"Don really helped me; he coached me and gave me advice, and I listened, continuing to improve," Josh recalls. "When someone like Don Gay takes an interest in you, you take it seriously."
Josh developed a momentum riding in small rodeos, but with time and the help of Don Gay and Jerry Nelson, he eventually made his way to the CBR Horizon Series where he racked up enough points to land him on the CINCH CBR Tour. In the four 2012 "Road to Cheyenne" events, Josh has quickly climbed the standings and today sits in the number one position, riding 9 of 12 bulls in CBR competitions.
Josh has earned the respect of all the staff and riders on the CINCH CBR Tour and has even caught the eye of Tuff Hedeman, who recently remarked, "I have never seen a bull rider try harder than this cowboy does every time he gets on a bull. He is extremely talented and has lots of try." Truly big words from a true legend.
Josh is quietly taking it all in, "When I look back from where I was to where I am today, it is worlds apart. I really couldn't ask for anything more…except a World Championship," he finishes with a big grin.
It will be interesting to see what lays ahead for the current leader of the pack, seeing as he was never before considered a candidate, but one thing is for sure: this cowboy has the talent, heart, and determination of a world champion and has been thrilling fans at every stop on the 2012 CINCH CBR Tour. It will be exciting to watch his journey.
Learn more about the cowboys of the CBR when they come to TV starting May 27th, 2012 , 6PM Sundays on FSN.