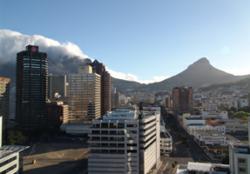 Howard students enrolled in the program will explore the cultural and social landscape of the Republic of South Africa.
Chicago, IL (PRWEB) March 29, 2012
IES Abroad, a leading provider of study abroad programs, is partnering with Howard University, an Historically Black College in Washington, D.C., to launch a customized semester-length study abroad program in Cape Town, South Africa.
The inaugural term for the program begins July 3, 2012, and ends November 25, 2012; Howard students enrolled in the program will explore the cultural and social landscape of the Republic of South Africa during their IES Abroad-organized program at the University of the Western Cape (UWC), a major research university with a highly diverse student body. The challenging courses offered at UWC will allow Howard students to meet requirements of their undergraduate study, including courses in the natural and social sciences, the humanities, economics, business, psychology, social work, exercise science, and education.
Founded in 1960, UWC quickly became a symbol of the student struggle against apartheid. After the end of apartheid, many UWC alumni and academics played an active role in the South African government.
Today, the UWC is an excellent place to study the social and economic transformation of South Africa. Through its strong tradition of outreach to the communities in the Cape Town area, the University continues its long-held commitment to inclusion in educating South Africa's non-white population. In the words of Nelson Mandela, UWC has changed "from an apartheid ethnic institution to a proud national asset."
Student internships and field trips heighten the study abroad experience.
The IES Abroad-organized program will also offer students the opportunity to participate in internships in local businesses and in the South African Parliament. In addition, students will take field trips to several locations, including Kruger National Park, local townships in Soweto, the Cradle of Humankind—a World Heritage Site, a township homestay and a rural service project.
IES Abroad, which celebrates its 62nd anniversary in 2012, is a global, not-for-profit academic consortium of more than 200 top-tier American colleges and universities. IES Abroad offers 100 programs at 35 international locations in Africa, Asia, Australia, Europe, New Zealand and South America. More than 5,500 students enroll in IES Abroad programs each year. For more information, please visit http://www.IESAbroad.org.
IES Abroad has received the prestigious Quality Improvement Program (QUIP) designation from The Forum on Education Abroad for meeting the highest standards for study abroad programming and evaluation in the nation.