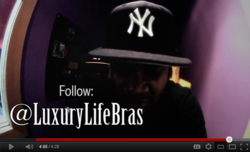 Miami, FL (PRWEB) March 28, 2012
Hip hop artist Bras recently released the official studio video "Epic," filmed at AudioBox Studios in North Carolina. Coast 2 Coast Video Distribution presents the project, in which Purple Cardinal Media teamed up with Luxury Life Media Group.
Brooklyn-bred Bras always knew he had a knack for music and has been experimenting with his craft for a number of years, but finally got serious with it in 2010 when he decided he wanted to share some of his life experiences. Music has proven to be the perfect conduit. Influenced by Jay-Z, Biggie Smalls, Fabolous, Young Jeezy, and a lot of down South music, Bras feels like he comes from the same background as many of the most successful artists in the hip hop industry. Having done time in prison, but also being college-educated (he holds a degree in school business management), Bras stresses that a large portion of his music is based in reality—things he's either seen firsthand, or done himself. He wants to take his experiences and explain to his listeners both the good and the bad of living in the streets, and to inspire urban youth with his accomplishments.
Bras, a member of Luxury Life Media Group, is currently working on a project called "No Risk No Reward," which is slated for release in Summer 2012.
"Epic" is available to view at http://www.youtube.com/watch?v=fEEKhseVK9E&feature=youtu.be