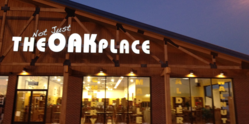 Colorado Springs, CO (PRWEB) March 28, 2012
From where it all started 30 years ago- the family basement to now- a great local location and the virtual showroom floor, The Not Just Oak Place has launched a newly designed website to compliment the new company name that reflects the dynamic skills of custom handcrafted hardwood furniture now available in- you guessed it, not just oak. The company formerly known as The Oak Place is excited to let the community know they are more than just an oak hardwood furniture company.
Bill Rhue and his wife, Bonnie, started building wholesale oak furniture in their basement over 30 years ago, specializing in bookcases, home and office furniture all built with the skills and attention locally. Since those humble beginnings the couple has moved their retail store twice within Colorado Springs, recently announcing their newest retail store location as The Not Just Oak Place, a title that will carry with it decades of experience and endless design possibilities in oak, cherry, alder, maple, walnut and any other wood type that a customer could want.
The locally crafted hardwood furniture is going against the grain, providing Colorado Springs with a level of quality and customization that mass production furniture retailers can't compete with. With the newly redesigned website, The Not Just Oak Place has taken their beautiful showroom on Academy and Dublin in Colorado Springs to the web, where customers can now see beautiful bookcases, home entertainment centers, office furniture, benches, portable shelving, kitchens, dining, bathrooms, bedrooms and much more. The virtual showroom also boasts a new "TOP Pledge" to all their customers including a satisfaction guarantee, lifetime furniture warranty, convenient delivery options, consultations, competitive pricing and customization options that give customers the ability to be part of the design process. Customers can also enjoy special offers online including coupons and a monthly giveaway.
The beauty behind custom hardwood furniture is that it is far more durable and long lasting than typical commercial counterparts. At The Not Just Oak Place customers will see the superiority of specialized wood designs in a variety of wood choices now available online or at the showroom in Colorado Springs. The community is proud to host a successful business that promotes locally the kind of custom craftsmanship that is not found just anywhere anymore along with local manufacturing and retail to support the beautiful town of Colorado Springs, Colorado. The Not Just Oak Place is proud to represent local business and hopes to stimulate consumer interest with a unique option and alternative to big-chain, mass produced furniture.
About The Not Just Oak Place – Located at 1837 Dublin Blvd. Colorado Springs, Colorado 80918- this locally grown, custom hardwood furniture business is excited to serve Colorado Springs Colorado with all wood types and now solid surfaces and new stain colors. Bill Rhue has been designing and building furniture for over 40 years, and is proud to offer a satisfaction guarantee and lifetime warranty to all his customers. For more information visit: http://thenotjustoakplace.com/