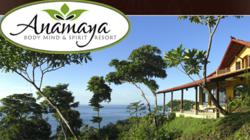 We absolutely love that our salt-water infinity pool is non toxic, comfortable for your eyes, and good for your skin.
Costa Rica (PRWEB) March 30, 2012
Mother Nature uses salt to keep our oceans healthy and clean, so Anamaya Resort is taking Nature's side by purifying their magnificent infinity pool naturally with salt. The yoga retreat center in Montezuma, Costa Rica is known for nurturing their guests in a non-toxic environment and now they are providing a safe and healthy alternative to excessively chemical based pool products.
The chlorine typically used to disinfect swimming water has been shown to worsen respiratory illnesses such as asthma and cause skin, eye and nose irritation. In fact, studies have shown that even after only 6-8 minutes of swimming in over-chlorinated water, swimmers showed signs of breathing troubles, not experienced when exercising outside of the pool (WebMD). In addition to these harmful effects, research has demonstrated that after only 40 minutes in a chlorine treated pool, by-products created when the chlorine meets sweat, urine and skin cells in the water and can damage DNA, which can lead to cancer (EnvironmentalHealthPerspectives).
As more and more toxins flood our world, people are continuously bombarded with health issues. Anamaya seeks to reduce the risk of disease and even help restore health by offering the safest and most healthy options for their guests. Co-owner of Anamaya, Joseph Mikrut, strives to offer Anamaya guests the best options available for their health and enjoyment. "We absolutely love that our salt-water infinity pool is non toxic, comfortable on your eyes, and good for your skin. Several of our guests have made quick advancements in their swimming skills by using it; probably because the water doesn't burn if it goes up your nose and they simply feel more comfortable and confident in it. Our pool truly is a special feature of Anamaya - especially with the epic view!" Mikrut said.
After swimming in this pool guests have noticed that their skin does not itch and there is no white flaky residue sometimes caused by regular chlorine treated pools. Many guests have noticed how soft the water feels, and in addition to the health benefits it feels more comfortable to be in the pool. Anamaya Resort and Retreat Center offers many healthy alternatives to the "normal" way of doing things that their guests may be used to. In addition to the salt-water pool, Anamaya also offers a dominantly organic menu in their restaurant, organic linens in the rooms, chemical free pest management and cleaning products as well as a variety of health and wellness based classes. Some of these classes include Yoga Retreats, Surfing Camps, Holistic Living Retreats, Yoga Teacher Trainings, and more. Guests often comment on how inspired they are to bring these healthy practices home with them to maintain a cleaner more pure lifestyle at home.
References:
Environmental Health Perspectives - http://ehp03.niehs.nih.gov/article/fetchArticle.action?articleURI=info%3Adoi%2F10.1289%2Fehp.trp110110
WebMD - http://www.webmd.com/asthma/news/20040611/chlorine-pools-breathing-trouble
Contact:
Kelsey Matheson-McCord
Vice President/Co-Owner
Anamaya Resort & Retreat Center
kelsey(at)anamayaresort(dot)com
http://www.anamayaresort.com
###