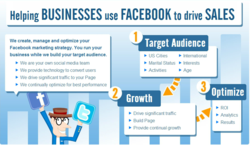 Los Angeles, CA (PRWEB) March 29, 2012
Back At You, a Facebook marketing company, reveals results to a study it conducted analyzing people who have 'Liked' a Facebook business Page to the ideal demographic of that business.
The majority of businesses on Facebook are experiencing little to no growth on their Facebook Page. The businesses that are growing their Facebook Page typically are growing with the wrong people. According to research conducted by BackAtYou.com, approximately 70% of people who 'Like' a Facebook Page are the wrong people. Meaning, 7 out of 10 people who are fans of a Facebook Page do not fit the targeted demographics of the business.
It's no wonder why most Facebook fan Pages do not grow and are not successful in engaging their Facebook audience. They are talking to the wrong people.
BackAtYou.com reviewed the Facebook Pages of individuals who 'Liked' particular small to medium size businesses and then compared the information to those businesses ideal demographics. In all, Back At You analyzed approximately 100,000 individual Pages, working with approximately 100 businesses to identify their target audience . The results demonstrated the importance of quality over quantity in term of Facebook 'Likes.'
Marketing to someone that is not interested in your company is a waste of time. Find the people that you think fit your demographic, find where they are online and then go after them. Facebook is not difficult, it just takes time and consistency, and if you focus on getting the right people to your Page, your business will be rewarded.
About Back At You
Back At You creates, manages and optimizes your businesses Facebook marketing strategy. We help a business build a Facebook page the right way, with the right people.
We are experts in Facebook marketing and social media. We understand you don't have the time, resources or knowhow to efficiently build your Facebook page. At Back At You, we work to build your business a significant online presence on Facebook with the people you want. You tell us who you want and it's our job to find those people and get them to your page. We do this through the use of our own proprietary technology along with services we provide to drive targeted users and convert traffic to Like your page.